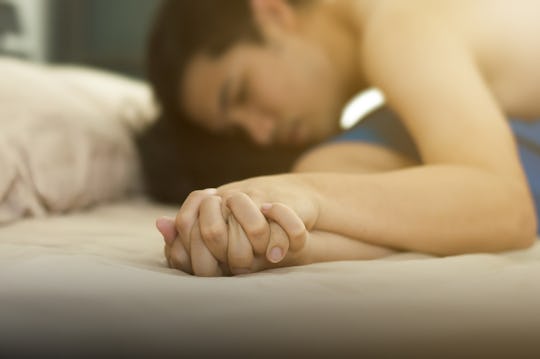 Fotolia
11 Sex Positions Only Parents Are Taking Advantage Of (But Hey, You Can, Too)
While many of us would likely shudder to hear the words "parents" and "sex" in the same sentence, the fact is that we don't just pack it in once we flip the switch from pre-baby to post-baby. However, kids have the ability to change pretty much everything in your life which, of course, includes your sex life. As such, there are sex positions only parents are taking advantage of because, well, it's freakin' necessity. That's #parentlife, you guys.
Backing up just a little bit here, because I don't want to scare you all: parent sex isn't de facto terrible. In fact, not to get terribly personal or spill the beans about my romantic relationship, but I've found parent sex to be almost identical to childfree sex, especially when it comes down to the deed itself. The logistics, however, will often require some minor (and sometimes pretty major) adjustments. Time, place, drive, and volume, for example, may all need to be tweaked.
Of course, some parents can experience birth trauma and injuries that will require medical attention, physical therapy, or adjusted techniques to overcome any long-lasting issues; but by and large we're usually the same people working with the same equipment under circumstances that force creativity, patience, and a sense of humor. Let's face it, sometimes this crap can get straight-up ridiculous, but if you start using the following sex positions parents have been using since always, at least the ridiculous can bring about an orgasm.