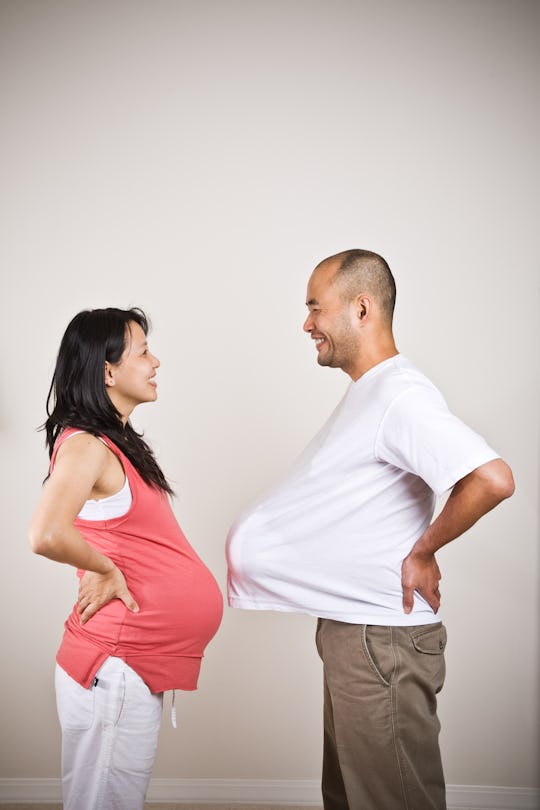 Fotolia
How To Support A Pregnant Mom Past Her Due Date 
We all hear the horror stories of irritable, overdue pregnant people and how intolerable they are to live with. However, don't ever say or admit that to an overdue pregnant person. I was one and, I can tell you, you'd come out of that conversation with fewer limbs. Past a due date is no time to test any waters. Instead, walk on eggshells and say, "Thank you, beautiful creature, for allowing me to experience eggshells between my toes, "as there are just things all men do when their partner is overdue.
First and foremost, it's worth mentioning that I prefer to use more inclusive language. So, something along the lives of "what all grown-ass non-pregnant partners do when their partner is overdue" is more appropriate. After all, we all know (or should know) there are women, non-binary, and genderqueer partners awaiting the birth of their children via pregnant partners, too. But hey, headlines have character limits and stuff.
Having said that, let's talk about the many, over-played jokes about overdue pregnancy. I'd suggest never telling those jokes to an overdue pregnant person unless you are an overdue pregnant person yourself. They are irritable and irrational for a reason (well, many reasons actually), including but definitely not limited to: swollen ankles, nose, feet, and hands, their hips have spread and they felt every single inch of spreading like flesh tearing from bones, they can't eat anything or they must eat everything, both sensations are equally urgent, and they are literally creating a human life inside of their body. Do you know how much energy that takes?
The important piece to focus on here is if you are the partner of a pregnant person who is past their due date and you, as a grown-ass person, should be doing the following things. End of discussion.