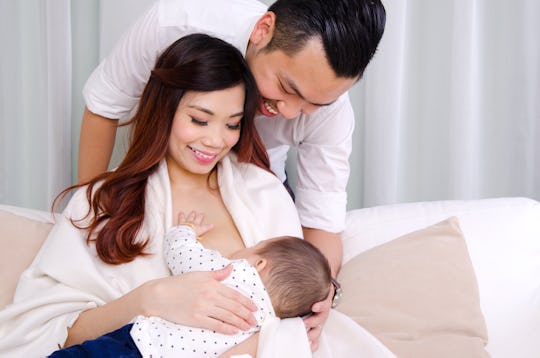 Fotolia
11 Things Every Breastfeeding Woman Needs Her Partner To Understand (Like, Now)
Even with the breast (I mean, best) of intentions, it's easy to misunderstand some things about breastfeeding. I mean, if we're going to get personal, I can admit that I've done it for over two years and I'm still learning as I go, in a lot of ways. As for my partner, I can only imagine how he feels about it, especially as a man who can't physically experience the act of breastfeeding. However, there are things I need my partner to understand about breastfeeding, and I honestly do believe that these are things any partner can learn, whether they have ever or can ever breastfeed, or not.
Overall, I consider myself lucky in that my partner has been (and continues to be) wildly supportive and respectful about breastfeeding, and beyond. Still, his support doesn't necessarily make him an expert. Sure, he's got a good sense of how a latch works and just what exactly I'm trying to accomplish when I switch sides and why dropping my phone during a feeding was and is the absolute worst. However, does he actually understand the physical feelings? The emotions? The sense of responsibility? He can try (and has), but I have my doubts. Again, it's not exactly his fault, as we're pretty limited by biology in that respect.
That being said, it doesn't hurt for us breastfeeding moms to recognize what sets our experience apart from our partner's, aside from the obvious physical limitations. It's also not too much to ask that, even though our partners can't experience the following, they can work to understand them. When problems arise (and when you're breastfeeding, the chances are high) support and solidarity can go a long way.