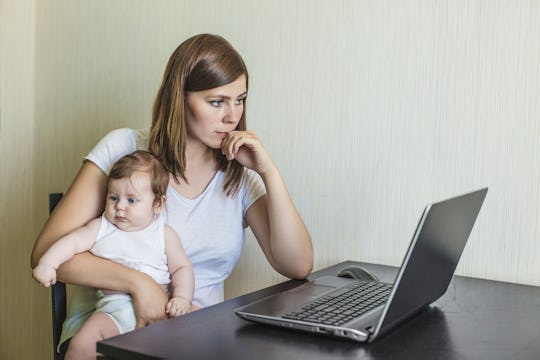 Fotolia
11 Things Every Working Mom Wishes Her Boss Just Knew, Without Her Having To Explain
Whether you stay at home, work, work for home, or any combination of those things, being a mom is just about the hardest job there is. As a result, being a "working mom," in our culture, can seem downright impossible. When you add unfair and sometimes sexist expectations of working mothers and workplaces that are not "family-friendly" at all, things just seem stacked against us. So, yeah, there are things every working mom wishes her boss just knew, without her having to explain, because it really and truly shouldn't be this hard to have a baby and have a career, simultaneously.
I'll admit that, sometimes, I've been lucky. I've had employers who didn't just say the words, "family comes first," but have offered me the flexibility, understanding, and support to actually make that a reality. Sadly, I've also had other employers, who thought it was appropriate to mock me for taking the "mommy track" and "giving up my career," or who refused to provide me with necessary leave to care for my children.
In our culture, people seem obsessed with whether working moms can truly "have it all" – a career and a family – without compromising either part. No one seems to ask this about fathers. I have never heard comments like this used to describe a man:
"Uh oh, his wife is pregnant, I wonder if he's going to start calling in sick."
"I wonder if he'll return to work after the baby is born."
"He's always using his kids as an excuse not to stay late."
"He's totally letting daycare raise his kids. Why doesn't he stay home?"
Reality for me has always been a duality of both not being able to afford to stay home with my kids and actually wanting to work and advance in my career. I love my job, and I believe I can have it all. However, it would be awesome if my bosses knew some things without me needing to tell them.