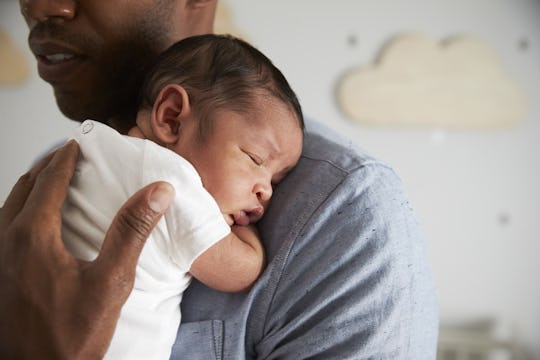 Monkey Business/Fotolia
11 Things You Really Shouldn't Blame A Dad For In The Newborn Stage
In those first days, weeks, and months with a new baby, life gets real. Emotions are raw (so too, very often, are vaginas) and it can be easy to lash out at the ones you love. But there are things you really shouldn't blame a dad for in the newborn stage, my friends. After all, this guy has the potential to be your greatest ally in this whole parenting thing, so it's best to maintain an air of camaraderie.
Look, I'm not saying these dudes get a free pass to be layabout screw-ups, or that you need to expend a massive amount of your time and energy tolerating crappy behavior. I'm merely suggesting that this is a time where everyone is finding a new groove (not least of all your baby, who has to, like, breathe air and eat food and not live in liquid for the first time ever) and a little mutual compassion can go a long way.
Hopefully your partner will give you absolutely nothing to get evenly slightly irked about in the first place (good dudes do exist!), but even the best guys will probably annoy you from time to time. And when those moments come, it's important to take a step back and talk about what are legitimate causes of anger and blame and which moments might benefit from a little bit of grace.