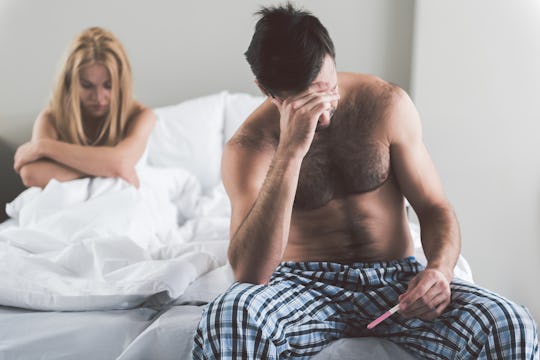 YakobchukOlena/Fotolia
9 Things Every Grown-Ass Man Should Know Before Having A Baby
I will be the first to tell you that I didn't actually know that much about having a baby before I had a baby. I knew about babies, sure, but there were a lot of parenting specifics I was completely clueless about before my partner and I found out our daughter was arriving by adoption. That doesn't mean women, and men, can't be a little more prepared than my partner and I were before becoming parents. That's why I'm sharing this handy list of things every grown-ass man should know before having a baby. Believe me, everyone involved will be grateful later.
Whenever I try to explain why my partner and I were utterly unprepared for our daughter (at least in terms of stuff, because our hearts sure were ready), I feel a bit sheepish. The truth is that infertility and adoption journeys can make you really wary of more disappointment, and the fear of that disappointment meant I didn't want to pour the rest of my heart into learning about being a parent before I knew, for sure, I was actually going to be one.
My family's story is fairly unusual, and most people who are preparing for a baby to arrive can actually allow themselves the freedom to do so, without fear. But there's a common fear of the unknown that can take hold, regardless of how excited you are about the prospect of parenthood, and that fear can sometimes prevent you from being as prepared and knowledgeable as you could be. Believe me, not having a single baby item or any knowledge about what to do in those first weeks really isn't preferable.
Before any grown-ass man has a baby, here's where he should start: