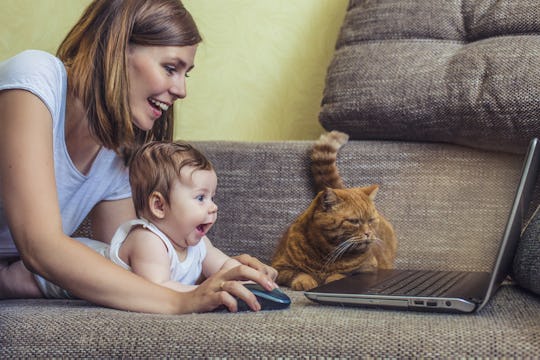 Fotolia
11 Times When Social Media Is Actually The Best Thing For A New Mom
Social media gets a bad rap, more often than not and especially from previous generations who grew up without it. It's just the way of things; every generation has to gripe about the "young folk" coming up behind them, waxing nostalgic about the way things were when everyone talked to each other in person or by carrier pigeon or whatever. However, there are definitely times when social media is the best thing for a new mom, despite what detractors say. Clearly, it has to be really useful at least sometimes, or we'd never put up with the downsides, like flame wars about breastfeeding versus formula-feeding and viral conspiracy-peddling subcultures that scare people away from life-saving breakthroughs like vaccines.
I don't know how I would have survived pregnancy or postpartum life without the support of people I love but can't physically see every day, as well as the online communities who have and continue to share knowledge, resources, and support that I've come to rely on. There is so much to know and attempt to figure out when you're planning for your baby, going through pregnancy, and after you start your life with your new baby or babies. Though we're fortunate to have thousands of books and millions of articles just a few clicks away, that also means we're awash in information, often without a way to sort what's useful from what's useless. Meanwhile, recommendations for everything to do with child health and safety change rapidly, so the advice our own parents, aunties, in-laws, and others have to offer us, however well-intentioned, can also be frighteningly unhelpful. There's got to be a way to sort through it all, and your friends and acquaintances online are often the best guides.
Plus, without social media, how would we share photos of our adorable little ones? Just walk up to people and stick your phone in their face? That's just weird and inefficient. No, social media is often the best thing for new moms, especially at times like these.