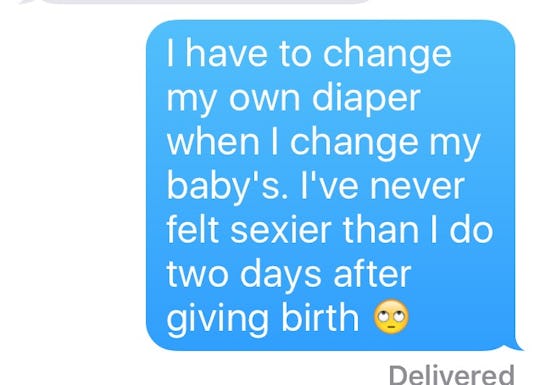 Courtesy of Hannah Westmoreland Murphy
12 Texts Every Mom Sends Her Friends About Her Postpartum Body
Pregnancy can do a number on a woman's body, and whether or not it eventually looks exactly the same as it did before it grew a human, there's going to be a few months (or years) when our bodies feels mysterious and foreign. Thankfully, we've got our friends to confide in when we experience the postpartum pranks our bodies play on us. The texts every mom sends about her postpartum body highlight the many ups and downs and overall awkwardness that is life after labor and delivery, and they give us all a much needed outlet to vent.
Staying body positive during pregnancy is tough enough, but remaining that way after you have a baby can feel equally arduous. Learning to love our postpartum bodies isn't always (read: at all) easy. It can be a long and frustrating journey towards feeling comfortable in our new form and coming to terms with the fact that our bodies might never look exactly the way they did before we gave birth. Honestly, it's frustrating; we can be in awe of our bodies and appreciate the miraculous thing they just accomplished, while simultaneously being unhappy with them because of how they look or how we feel inside them. Just like motherhood in general, the postpartum phase doesn't, you know, always make sense.
Sadly, there are so many things no one tells us about our postpartum bodies, which can make learning to love them even more difficult. When all else fails, though, having a sense of humor when it comes to the physiologic frenzy happening postpartum can carry you a long way down the road towards self love and acceptance. We've got to try not to take our physical anomalies so seriously, but when in doubt, sharing the struggle with a friend can offer instantaneous relief. I'm sure there's more than just a few us of that have sent our friends the following texts.