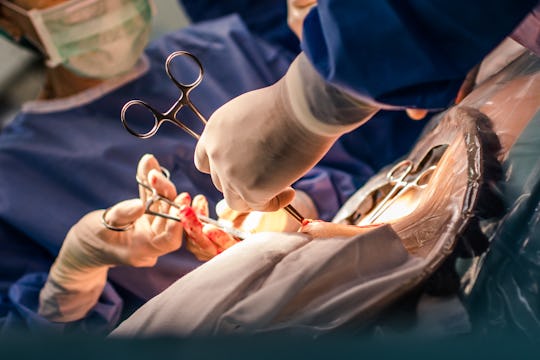 Fotolia
12 Things No One Will Tell You About Having A C-Section, But I Will
Before I had my first child, I hadn't given the idea of having a c-section much thought. I was under the misguided notion that a birth plan was unwavering and something that would almost exclusively be in my control and, that like most things for which I am responsible planning, it would be executed flawlessly. So at the time, I was happily blind to the possibility of a cesarean. It turns out, there are a lot of things no one tells you about c-sections unless, of course, you ask or dig around for information or learn the hard way (like I did).
When my birth class instructor got to the part of class where she started talking about the noises one might hear in the operating room during a c-section, I laughed nervously and then proceeded to zone the you-know-what out. I later joked about the possibility of hearing those very same noises with my doctor, and she agreed that we should remain optimistic and that we would do everything possible to ensure I experienced the vaginal birth of my dreams.
I believe there are things in life that are better when left unknown, until the moment you absolutely have to experience them. I also think there are other moments when knowledge can give you power and a sense of control. When it comes to an operation like a c-section, your best bet is to go with the latter. I wish that someone back then had told me what to expect about having a c-section, so I am going to pay it forward. Warning to those who prefer to be surprised: spoiler alerts ahead.