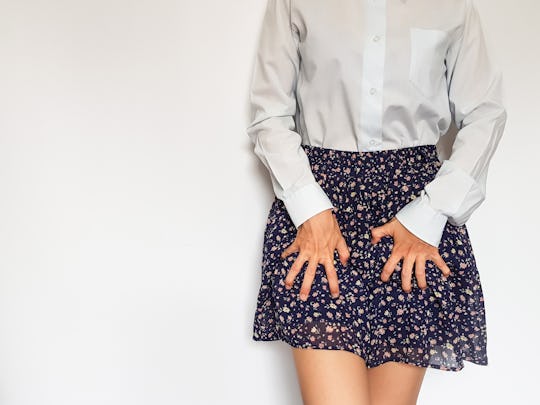 KatKrittimook/Shutterstock
12 Things That Happen "Down There" That Moms Wish They Could Talk About
While I have no problem being specific and technical — vagina, labia, urethra, pubic hair, perineum, mons pubis — about "down there," it's a great term to use when discussing the whole general area and what happens to it pre- and post-birth. My midwife referred to this area as my "bottom" and would ask me "how my bottom was doing" regularly. It was weird having someone check on the state of my "bottom" on a consistent basis, but, if we're being honest, there's plenty about "down there" that moms wish they could talk about. In the end, I guess it was kind of nice that someone cared.
Many of the things we'd probably like to vent about are pregnancy- and birth-related, because that's when our "bottom" is really the star of the show. It's also when our "down there" is doing, well... some stuff. Normally it just sort of plods along like a fancy and fun member of Team Your Body, but maternity can do some weird stuff to "down there." And that stuff can be confusing or downright upsetting, but far too often we're too embarrassed to discuss it so we're stuck feeling confused and upset all by our lonesome. That innate sense of embarrassment is no doubt connected to and the result of the general sense of shame women are made to feel about their bodies in general, and their so-called "sexual" body parts in particular. But, I mean, what happens "down there" is also private and, sometimes and for lack of a better word, kinda gross. No one wants to hear about your mucus plug, Karen.
But there should be some balance, or at least some outlet, right? So let's make a personal and public pledge to talk about everything we wish we could talk about more openly, starting with our pregnancy and postpartum vaginas. You're welcome, world.