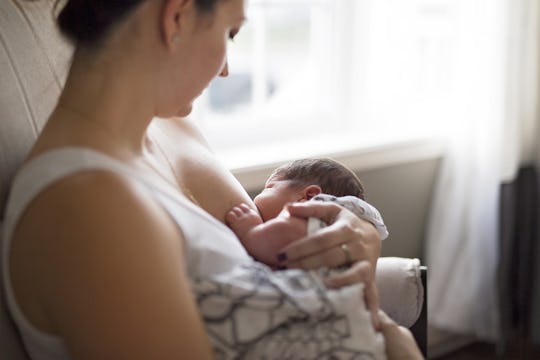 Fotolia
12 Things That'll Definitely Happen During Your First Cluster Feeding Session
Two weeks after I gave birth to my son, things started to get weird in the evening. (Well, even more weird. Life with a brand new person as a brand new mom is weird in general.) He started getting fussy and asking to nurse basically all the time after our designated bedtime and until around midnight. It made me crazy, until I realized he was sleeping longer at night as a result. Apparently, he was "tanking up" so he could rest around four or five hours between nursing sessions at night. Still, that first cluster feeding session was a doozy, that totally rattled my confidence until I figured out what was going on (or, more accurately, until my breastfeeding mama pals — aka my "Breast Friends" — reality-checked my expectations).
After I'd gotten into a rhythm with my son, fixing his latch and starting to anticipate his needs so he wouldn't get very fussy during the day, it was jarring to see him get upset and totally deviate from the pattern I'd come to expect. However, that's what newborns do. They grow so much, so fast, so naturally their timing and internal schedules do, too. (I so wish I'd realized that in advance; could have spared myself a ton of unnecessary second-guessing and worrying.)
Once I accepted that being fussier and eating more frequently in the evening is just a normal thing a lot of breastfed babies do, things got a lot easier. I made sure that we were home around that time of day (not that we went a whole lot of places then anyway, since he was still really new and it was the middle of winter), I picked some new shows to start binging on Netflix and Hulu, and my partner made sure that I was always well fed and had all my favorite soothing remedies — cold gel packs, plus all-purpose nipple ointment (when my nipples were cracked) or regular coconut oil (once they healed) — ready to go the minute our son unlatched.
But before we figured all that out? Oh man. It was like being in a weird dream, where literally nothing makes sense. The following things happen to pretty much everyone during their first cluster feeding session, so if you're in the throes of that lovely experience now, know that you're not alone. (Also, don't change the batteries in your clocks. They're not broken, I swear.)