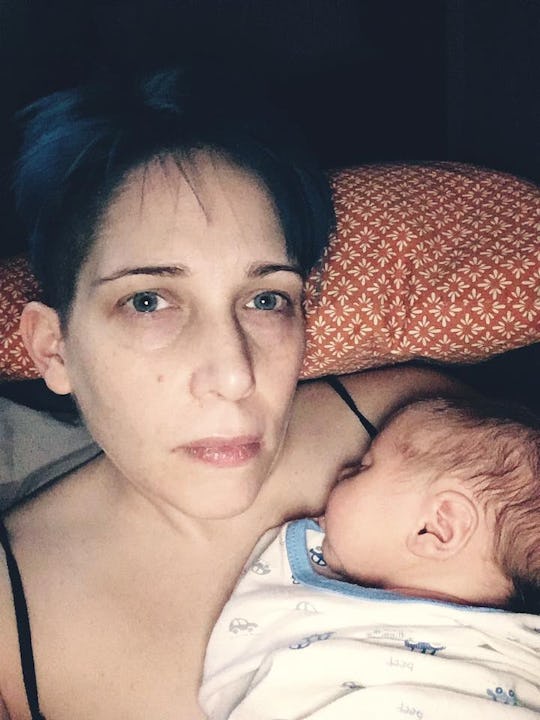 Courtesy of Steph Montgomery
I Thought My Body Hated Me, But I Was Just Postpartum
The first couple of weeks after my baby was born felt so surreal. I wasn't sleeping much, and I was filled with anxiety and fear about keeping my tiny human alive. There were also more than a few times I thought my body hated me, but really I was just postpartum. No one tells you that the hardest parts of growing a human are not labor and childbirth. In my experience, they are the ways your body tricks you, hurts you, and doesn't work quite right in the weeks that follow.
It starts before you even leave the hospital. If you have a vaginal birth, like I did, I highly recommend bringing some accessories into the bathroom with you, because OMG it burns the first time you pee. Luckily the hospital provided a peri bottle and numbing spray, both of which I totally needed. Just when I thought peeing was bad, I had to poop, and learned that postpartum peeing is not so bad compared to pooping. Seriously, it was worse than childbirth.
I expected to bleed after delivery. I mean, that's why the hospital gives you stylish mesh underwear and ginormous pads to wear. What I didn't expect, however, was the incredible amount of blood I'd have to deal with. I also didn't realize that breastfeeding would make my uterus contract and my postpartum bleeding would flow heavier and faster, inevitably soaking through even the thickest pad and causing me to double over in pain. Then, to add insult to injury, my perineal stitches got stuck to my pad with dried on blood. I had to give myself a pep talk to get through the process of peeling the pad off my poor labia. Yes, here swearing was definitely involved.
Here are just a few of the times when my body definitely voiced her displeasure during the first few weeks postpartum. I thought she hated me, but she was just doing what she needed to do to get through that post-baby phase. Bless her.