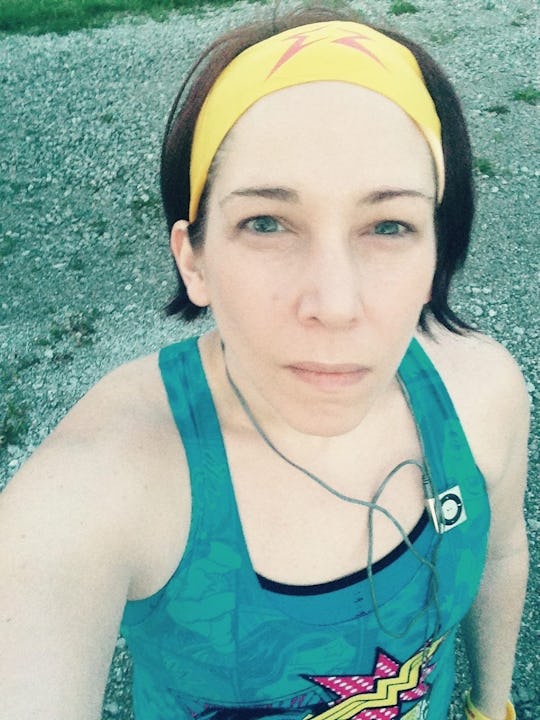 Courtesy of Steph Montgomery
What Happened The First Time I Worked Out Postpartum
When I found out I was pregnant with my first child, I was working out every single day. I was lucky to be able to stay active throughout my pregnancy, and I hoped that constant activity would aid me in jumping back into my established routine as soon as my midwife gave me the OK. I had no idea what to expect, though, and I was terrified that I was going to make a fool of myself at the gym — a place where I once felt so welcome. Honestly, the first time I worked out after childbirth totally sucked. I didn't realize how much my body had changed until I tried to make it do some of the things it used to. I felt insecure about the fact that I couldn't seem to lose my "baby weight," no matter how much I changed my diet. I was shamed by a group exercise instructor who didn't think I could possibly be in the right class. I also couldn't do everything I used to be able to. It was so completely demoralizing.
After my second child was born, I decided against going to the gym for my first workout. Instead, I decided to do P90X (a weight training and cardio workout DVD that was popular at the time) at home with my husband. I had read somewhere that Paul Ryan had done it, and figured there wasn't anything he could do that I couldn't do better (next stop: Speaker of the House). It was so hard, and I am pretty sure I had more than one out-of-body experience. Still, and while my husband quit after two weeks, I stuck with it until the end (take that Paul Ryan).
This time around, I've been forced to ease back into exercise super slowly by an injury and a traumatic birth. I honestly wish I had done it this way the last two times, though, because OMG I feel so much better and more confident than when I rushed into a routine my body was not ready to handle. I am honest with myself about what I can and can't do, and tell everyone I see at the gym that I just had a baby with pride instead of shame. I encourage every badass new mom to learn from my mistakes and take it easy while they find a new workout routine that works for them.