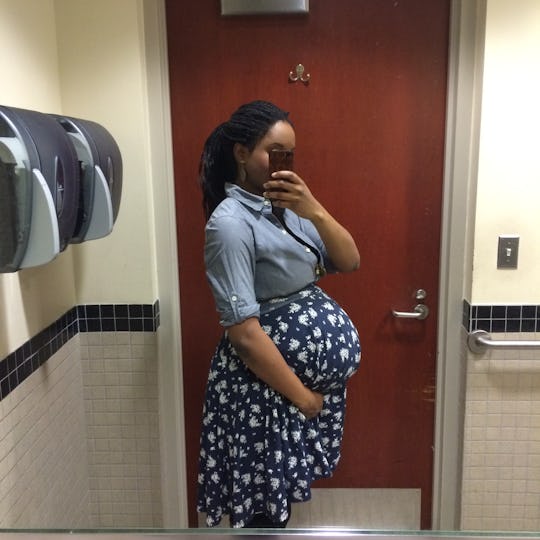 Courtesy of Sabrina Joy Stevens
13 Signs You're Kicking Your Third Trimester's Ass
The third trimester of pregnancy is not the best, by a long shot. That honor belongs to the second trimester, when (if you're lucky) all the worst symptoms of pregnancy subside just as you become visibly pregnant, yet not so pregnant that you're horribly uncomfortable. while the third trimester has its advantages — especially over the nauseating, so-far-from-the-finish-line first trimester — it will still do its best to kick your ass. There are multiple signs you're kicking the third trimester's ass instead, though, so it's possible (and if any of the items below are familiar, count yourself successful).
For me, the third trimester was among the longest, most absurdly emotional three (more or less) months of my life. I was often incredibly uncomfortable, and literally everything made me cry (including a misspelled label on a package of chicken at our neighborhood market). I felt totally unwieldy, with a belly full of the most active kid I'd ever encountered, constantly waddling to the bathroom or tossing and turning during my frequently unsuccessful attempts to rest.
Still, I was so excited by the fact that I was -- according to the calendar, if nothing else -- getting ever closer to meeting my baby boy. I also had hit something of a pregnant groove, and not just the one in my mattress. I had several favorite craving spots that I could always count on for free food, an A+ pillow fort on my side of the bed, and several dresses that made me feel like the life-giving land goddess I was. If any of these scenarios are familiar to you, then pat yourself on the back (or get some else to, if that stretch annoys your body in any way). The following are sure signs that you're totally crushing this third trimester thing.