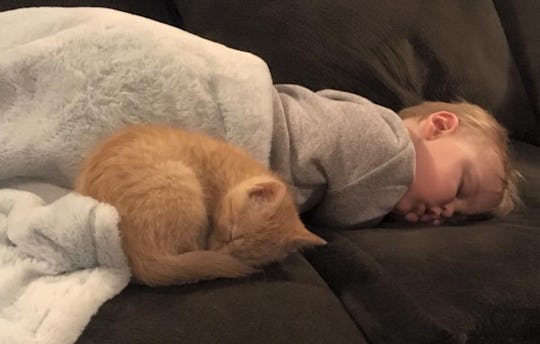 Courtesy of Steph Montgomery
15 Reasons Your Toddler & Cat Are Basically The Same
While I understand why some cat and/or dog moms compare their experiences to moms with children, as someone who's had both "fur babies" and human babies I can tell you that being a cat mom it's totally different. I can't leave my kids home alone all day with a bowl of food and water, and I can't lock them in the bathroom when they're sick. I do have to admit, however, that my toddler is basically a cat. From how he acts to how he tests my patience, the kid is a low-key feline in disguise, I am sure of it.
I actually think my kid has more in common with my cats than he does with his older human siblings. When I order a new toy he cares more about the box it arrives in, just like my cats. My toddler has a tendency to knock things off the table for literally no damn reason, just like my cats. My kid wakes me up in the middle of the night because he's lonely and wants to play, just like my cats. He even climbs up my bookshelves like it's no big thing in an apparent desire to make my heart stop, just like my damn cats.
Both my cats and my toddler have no respect for my personal space, either, and frequently demand my attention in the most annoying ways. If one isn't following me into the bathroom, the other is probably sleeping on my face. It's a good thing my toddler — and my cats — are cute, because they definitely test my patience on a near-daily basis.
So while I can't say that being a cat mom and a mom mom are the same, I do have to concede the fact that my toddler — and likely yours — is basically a cat, and in the following annoying but also endearing ways: