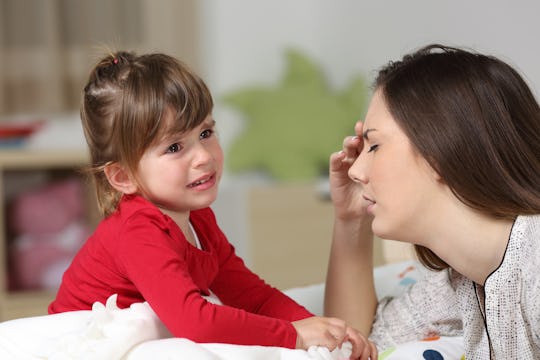 Antonioguillem/Fotolia
15 Stages of Doubting Your Parenting Because Your Toddler Acts Like A Jerk
Sometimes it feels like everyone wants you to believe that you're a terrible parent. Everywhere, haters sow seeds of doubt. Older relatives try to convince you that you're starving your baby because you don't give her steaks. Moms on parenting boards think you're actually reincarnated Hitler because your child's car seat chest clip is three-quarters of a centimeter lower than they think it should be in that picture you posted. But you know who your biggest underminer of them all is? Your child. You will inevitably doubt your parenting because your toddler is acting like a jerk. And "jerk" is putting it very, very nicely.
It's tempting to think of our children as unmolded lumps of clay and, as a result, to think of ourselves as artists shaping them into something beautiful. So when the little moppets become raging assholes, it's difficult if not damn-near impossible to keep yourself from thinking, "What have I done? How did this happen?" I mean, at the end of the day it's always the parents' fault, right?
As the go-to caretakers of our sometimes exhausting spawn, we spend so much of our time and energy determining the best ways to help our children adapt to and thrive in the world around them and in a way that makes them feel empowered and happy. How, with such pure intentions and noble, tireless efforts, can things go so horribly awry? While I can't know why things happen that way, I can tell you how it will all go down.