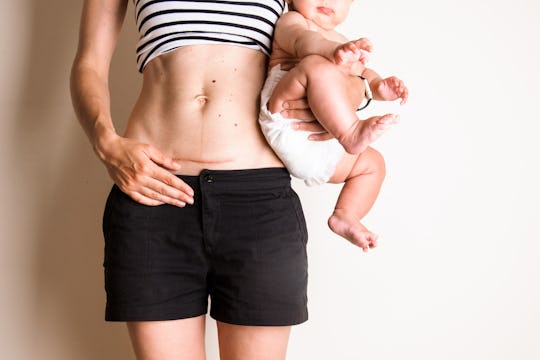 troyanphoto/Fotolia
17 Moms Reveal What They *Really* Think About Their C-Section Scars
Like most new moms I've talked to, I was hoping to avoid a C-section delivery if I could. But 18 hours after my water broke, and despite powerful contractions, I'd only dilated five centimeters and my baby was showing signs of distress. So my first birth wound up in an emergency C-section. As a nurse "prepped the area" (aka shaved my fancy bits I remember thinking "This is going to leave a mark." For many, the possibility of not just a C-section but a scar is scary. So I asked moms to talk about their C-section scar, because newbies should be prepared for the possibility. Plus, some of us just need space to talk about something that isn't often discussed.
Despite things not going as desired, I had a wonderful birth experience and I'm happy to have a permanent reminder of the day I met my son. In fact, I love my C-section scar. Even though I can barely see it anymore (it's been seven years, but honestly it was well on its way to invisibility pretty early on) I can feel it below the skin — a thin divet in the muscle when I press down. Knowing it's there is a source of fond memories and pride for me, and while it's barely visible my scar is not something I feel like I should hide.
But my experience isn't universal. I had a good birth experience, a relatively easy recovery ("relatively" being an important qualifier, since all C-section recoveries require time and effort), and no lingering side effects from the surgery. So with that in mind, here's how some other C-section mamas feel about their "bonus birth souvenir."