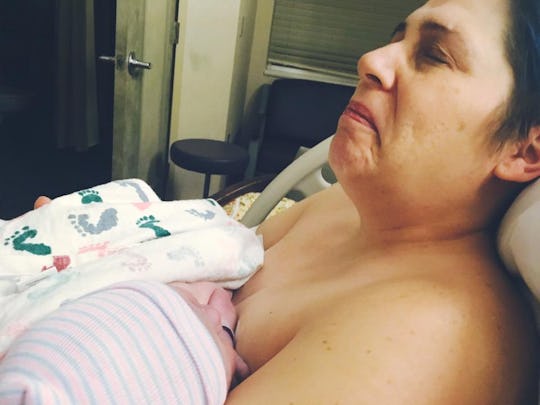 Courtesy of Steph Montgomery
18 Moms Reveal The Lowkey Evil Things People Said To Them After Childbirth
Honestly, I can't help but feel as though us moms just can't win. No matter what we do, someone will tell us we're doing it wrong or criticize our choices. Some of us, myself included, were "lucky" enough to find this out right away, too — hearing rude, insensitive, and critical things literally right after childbirth. It hurt, and made me lose confidence in my ability to parent from the start. In talking to other moms, I learned I'm sadly not alone. In fact, when the following moms shared the lowkey evil things people said to them after birth, I was bombarded with a sudden urge to just burn the world down.
After all three of my babies were born, I heard rude comments about everything from needing to supplement with formula and the name I picked for my baby, to my level of postpartum pain, which the nurses thought I was making up. Apparently I needed to "suck it up" and get out of bed myself and avoid taking the medications my doctor prescribed. Then, despite the fact that I was treated for preeclampsia before I delivered, a postpartum nurse ignored my complaints of blurred vision and a racing heart, refused to check my blood pressure, and tried to give me a sedative to "calm my nerves," telling me I was having a panic attack. It turned out that I had postpartum preeclampsia, and if she had delayed care any longer things could have took a turn toward serious. It was not just nurses. I heard rude comments from my now ex-husband, family members, my in-laws, and strangers, too.
This has to stop. Being a new mom is hard enough without hearing rude comments when you're tired and trying to recover from childbirth. These comments have the potential to shatter your confidence and make you feel like a terrible mom, too, which is entirely unacceptable and sets a mom up for things like postpartum depression and anxiety in the future. Read on for the worst of the worst evil comments people actually said to these moms after birth. I'm warning you, though: it might make you want to burn it all down.