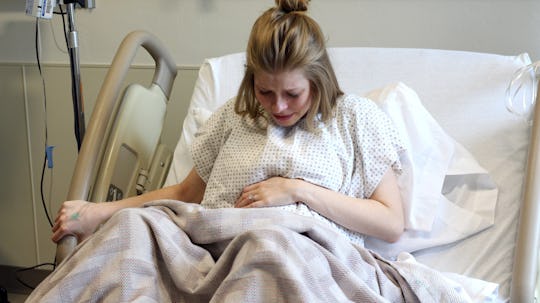 Brittany/Fotolia
Pregnancy Almost Killed These 8 Women & Here's What They Want You To Know
It honestly never occurred to me that pregnancy could be dangerous. Then it almost killed me. It's hard to believe that, in 2017, pregnancy-related deaths in the United States are on the rise. People aren't talking about it, though, and I get it. After all, it's upsetting to consider things might go wrong with your pregnancy. But if we don't start talking about the very real dangers of procreation, we won't make things better — and safer — for pregnant women. Pregnancy almost killed these eight women, and there are things they want you to know so that, hopefully, you don't find yourself in the same terrifying position.
Unfortunately, in our culture it feels like women literally have to be dying before people take them, and their feelings, seriously. And in most of the cases with these eight women, they had to be relentless advocates for themselves in order to receive the vital care they needed. I can totally relate. During my second pregnancy, I had hyperemesis gravidarum. For 22 weeks I vomited several times a day, but the doctors and nurses at my local hospital kept sending me home, telling me it was just morning sickness and to drink some ginger ale. Finally, and after repeated attempts, I got someone to listen and prescribe medication for my nausea, but not before I became dangerously dehydrated, lost 15 percent of my body weight, and my kidneys started shutting down. I guess it wasn't just morning sickness, after all.
It gets worse, though. Despite the fact that I was treated for preeclampsia before I delivered, a postpartum nurse ignored my complaints of blurred vision and a racing heart, refused to check my blood pressure, and tried to give me a sedative to "calm my nerves." It turned out that I had postpartum preeclampsia. The staff was going to send me home, and I could have died as a result.
Sadly, I'm not alone in my experiences. According to the Center for Disease Control and Prevention (CDC), more than 700 people die due to complications related to pregnancy or childbirth every year. A recent analysis of this trend by NPR and ProPublica revealed that the United States has the highest rate of maternal mortality in the developed world, and that rate is rising. These numbers don't include the people who survived, either. We have got to start talking about this problem, and we must listen to survivors' stories. While upsetting, they are so important in helping us, as a society, better care for pregnant women.