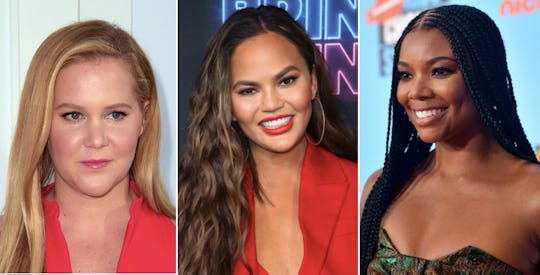 David Livingston/Getty Images Entertainment/Getty Images/ Kevin Winter/Getty Images Entertainment/Getty Images/ Matt Winkelmeyer/Getty Images Entertainment/Getty Images
22 Applause-Worthy Times Celebrities Expertly Shut Down Mom-Shamers
The judgment put upon mothers, especially new mothers, is relentless, unfounded, and overall just ridiculous. Whether you're famous or not, you probably know this to be true. However, new moms who are also public figures tend to be under even more scrutiny. To remind you that you never have to tolerate it, here are some incredible times celebrities have shut down mom-shamers and trolls on social media.
Though the internet has made it so that we can happily follow along as our favorite actors, musicians, reality stars, and other public figures share their growing families, businesses, and personal lives, there's always a dark side on the web. Namely, people who seem to feel they have the right to criticize everything from the innocuous, such as what a child's wearing or eating, to the truly uncalled for, such as whether they've taken appropriate parenting precautions during various activities, to the downright troubling, like commenting on a mother's postpartum body).
Surely you've seen some of these infuriating comments floating around social media at some point in recent years. Fortunately, though many celebrities, like these below, simply refuse to tolerate this type of treatment and often, and expertly so, clap back at their critics, serving as an inspiration to us all.