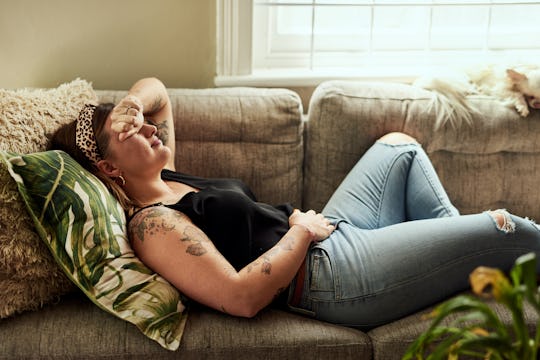 PeopleImages/E+/Getty Images
Here Are 5 Reasons Why You Might Have Pelvic Pain In the 1st Trimester
Pelvic pain is common during your first trimester, but then again so is nausea, and just because these feelings are normal doesn't make them any less unpleasant. Your pubic bone is softening and the uterus is enlarging in early pregnancy to make room for the baby, but there are other causes of pelvic pain in the first trimester.
"When you think of how much is happening inside the uterus during the early stages of pregnancy (the embryo has to implant, burrow its way into the lining of the uterus and hook itself up to mom's circulatory system) it makes sense that there will be some cramping here and there," Dr. Lucky Sekhon, reproductive endocrinologist and infertility specialist, tells Romper. You will normally feel cramps or twinges during the first eight to 12 weeks of pregnancy, which is sometimes called "accommodation pain."
Accommodation pain is "usually a dull, throbbing sensation or cramping that doesn't ease when you change positions," per Self. Your body is going through a ton of changes including increased fluid volumes, a growing uterus, and increases in hormone levels which impact your joints and ligaments, as Dr. Angela Jones, OB/GYN tells Romper, so there is bound to be at least some discomfort. Read on for five causes of pelvic pain during the first trimester, and how to know when the "normal" discomfort is actually something you should mention to your doctor.