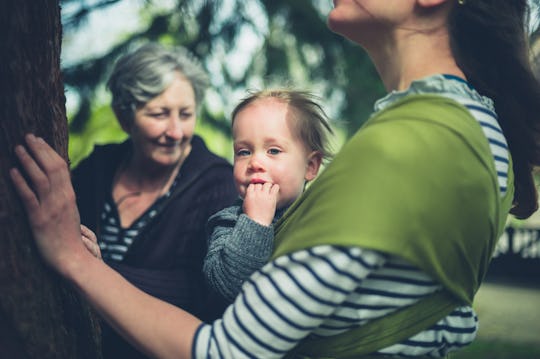 LoloStock/Fotolia
5 Disturbing Things My Mother-In-Law Said To My Son & About Me
My mother-and-law and I have had a thorny relationship since always. She made it clear, from day one, that she didn't want anyone stealing her only child's heart, but it took me a while to realize just how much she disliked me. I can say now, however, that after years of her twisting stories to benefit her narrative or passive-aggressively playing the martyr to win a battle, I have a good idea of how little she values me. And, sadly, there are the things my mother-in-law actually said to my son right in front of me, too, in case I didn't get the memo.
I have spent 14 years trying to navigate a beautiful and sometimes challenging relationship with a man I love, which means means I have spent 14 years of trying to navigate a relationship with a woman who wants nothing to do with me. She's made her feelings about me painfully clear, so I have no doubt that my frustration and sadness is more than called for. Because really, and truly, all I have ever wanted was for her to see me as her son's loving partner and the woman who is raising her grandchildren to the best of her ability.
Instead, she sees me as someone who can't cook, can't handle her own anxiety, and can't handle her marriage. She also sees me as someone who doesn't parent "correctly," whatever that means, and that slight is the one that hurts the most. Our relationship is clearly toxic and impacts me in ways my husband just can't understand, which makes this entire ordeal all the more isolating. It helps to talk about it, though, which is why I feel the need to share the creepy things she has said to my son right in front of me; things I know were meant to be slights or hurtful; things that have also started to fracture my marriage.