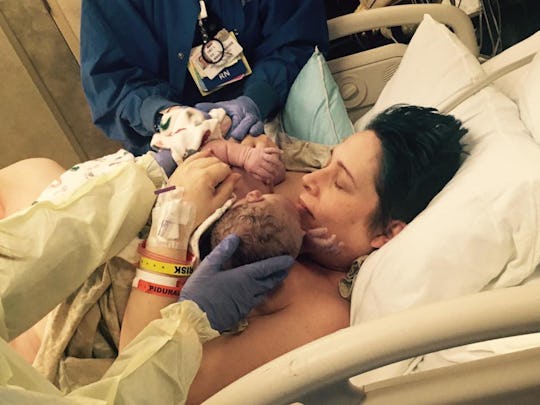 Courtesy of Steph Montgomery
6 Maternity Nurses Share The *Real* Reason They Love Their Job
I will never forget the nurses who cared for me when I birthed my babies. They comforted me during labor, offered support and encouragement, and even snuck me food in the delivery room. My postpartum nurses were incredible, too, and were rockstars when it came to helping me learn how to be a mom. Most moms will tell you a nurse can make or break your labor and delivery experience, because birthing babies isn't easy. Which begs the quest: what do maternity nurses love the most about their jobs? I truly believe it takes a special kind of person to want to be there for women when they're at their most vulnerable (and secreting so many bodily fluids).
Romper asked maternity nurses why they were so passionate about their jobs, and pretty much every single one said it's because they love empowering women during childbirth. Labor and delivery nurses support moms-to-be through one of the most challenging, vulnerable, exhilarating experiences of their lives, keeping them calm during labor, helping them make informed decisions, and making sure their obstetrics provider knows what's going on throughout the entire process. They do get to see parents meet their babies for the first time, and help parents make difficult choices about their babies or cope with insurmountable loss. I honestly don't know how they do it, but I sure am glad they do.
Postpartum nurses are just as special, too. They have the extremely important job of taking care of new moms while they learn to take care of their babies. They help us navigate our sore bodies, bring us frozen diapers, giant mesh panties, stool softeners, pain meds, and teach us how to feed our babies after the exhausting task of bringing them into the world. In return, they see the tender moments of new parenthood.
In other words, the nurses who care for pregnant and postpartum women are incredible. And if you needed any further convincing, well, just read the real reasons why they love and value their important jobs so much: