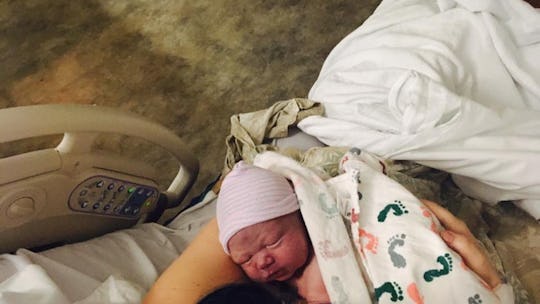 Courtesy of Steph Montgomery
9 Things Everyone Says Will Happen When You Meet Your Baby For The First Time, But Don't
If you believe what you see on television, new moms are supposed to be serene and beautiful, and their newborn babies are supposed to be chubby and healthy. You're supposed to be instantly in love when you meet your baby for the first time, and everything is supposed to be perfectly wonderful. So when you actually give birth and damn-near everything is different than you envisioned or imagined, it's pretty impossible to keep yourself from feeling inadequate, confused, and hurt. Well, that's not how moms should feel when they hold their littles, so I think it's time to clear up a few things.
First, I'm going to tell you a secret: most of those preconceived notions we've all been conditioned to believe when it comes to motherhood, and especially first-time motherhood and postpartum life, are big, giant, horrible lies. For example, you think you'll be clean, calm, beautiful and resembling a medieval painting of the Virgin Mary seconds after your baby is born. The reality? You'll be exhausted, hungry, sore, and smell like a modern sculpture made out of poop. You think you and your baby will lock eyes and immediately fall in love, followed by an hour of effortless breastfeeding and warm snuggles. The reality? Your slimy, angry baby will be pissed off that they're now outside your uterus, and the nurses will continuously bug you to get up and pee so they can move you out of the room.
The good news, however, is that perfect is pretty overrated and moms-to-be are better off when they manage their expectations. You don't have to be serene. You don't have to look effortless. It doesn't have to be love at first sight when you hold your baby. Birth is an exhausting rollercoaster ride of pain and emotions, so the last thing you need is to try to meet unrealistic expectations of childbirth in the process. So what if you have broken blood vessels and are covered in bodily fluids? You are still a total badass. Your baby might look creepy, but they're your creepy baby. Breastfeeding might not be as effortless, but you'll have support and, in the end, you don't have to breastfeed if you can't or don't want to. The first time you meet your baby probably won't be picture-perfect, but it doesn't have to be.