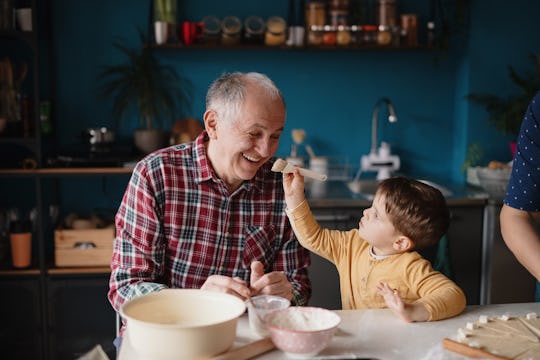 Anchiy/E+/Getty Images
The Best Grandpas Do These 6 Things To Help New Big Siblings Feel Special
If you're lucky enough to have your own parents around for the birth of your second (or third or fourth) child, you already know how helpful it can be to have someone you totally love and trust caring for your older children. And you know that the best grandfathers do things for new big siblings to make them feel extra loved and cared for, so you can relax knowing your first baby is in great hands.
Adding a new baby to the family is joyful and exciting, but it can also come with a swirl of emotions. You might find yourself worried about your oldest, or wondering if you will ever be able to love a second child as much as you love your first (you will). Having your children's grandparents around as you prepare for birth and welcome baby home can be super helpful, as long as you have some honest conversations about what you expect from them (for example, maybe you'd love if they let you answer questions about the new baby, or you'd really appreciate if they cook, but would rather they not do laundry).
Awesome grandpas will help your big kid make sense of this major life change, and they'll let them feel their feelings (even the not-so-cute ones like jealousy or resentment). Read on for six things the best grandfathers can do for new big siblings that will help make everyone's lives a little bit easier.