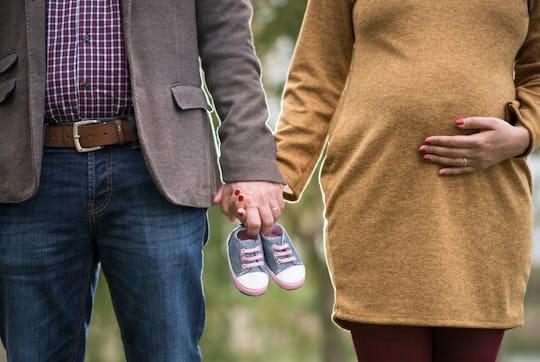 bogdanvija/Fotolia
7 Creepy Things People Said To My Husband After I Announced My Pregnancy
There's something about pregnant women that makes people, especially men, say the most inappropriate things. I, for one, have heard some truly horrible stuff when I was pregnant. Some of the worse comments, however, were actually directed at my husband. And in a way, that made it worse. I mean, pregnancy is more than a little dehumanizing as it is, and without people directly comments about your body at your male partner. You wouldn't believe the creepy things people said to my husband after we announced my pregnancy. I shudder just thinking about it.
I was honestly shocked at the things people thought were OK to say to my husband about my pregnancy. My husband heard more than a few misogynistic jokes about my body, my pregnancy, and even my sex drive. Like, I don't care how pregnant I am or how curious you are, unless you are one of my partners, my sex life is none of your damn business. Also, while my pregnant boobs are pretty glorious, and I know that pregnancy changed the way my body looked, did people really have to let my husband know that they noticed? No. The answer, of course, is no.
It's bad enough that people treat pregnant people like their bodies and pregnancies are up for debate, comment, and discussion. And commenting about my body to my husband is even creepier than telling me directly. Same goes with asking when we conceived or if our pregnancy was planned. So with that in mind, here are some of the things people thought were OK to say to my husband after I announced my pregnancy, that were actually really creepy.