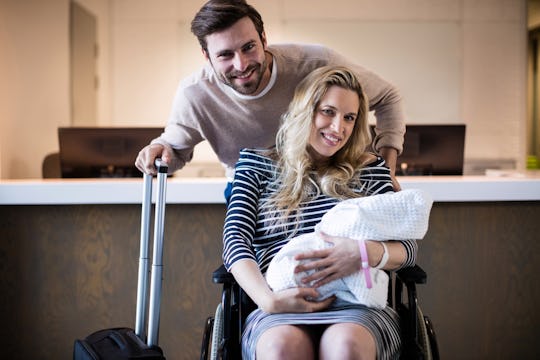 WavebreakMediaMicro/Fotolia
8 Creepy Things People Said To My Husband Right After I Gave Birth
There's something about babies that empowers people to say ridiculously inappropriate things. After my baby was born my then-husband and I fielded questions like, "When was your baby conceived?" and, "Are your planning to circumcise your son?" and even, "Are you sure you are the father?" It might just have been "locker room talk" (whatever that means) but in my experience, these jokes directed toward my male partner, by other men, were horrific. Sadly, there are so many creepy things people said to my husband when I gave birth, and it's worth unpacking because I know, for a fact, that I'm not alone. These comments, directed at male partners of postpartum women, should not be a thing, you guys. Just, no.
I don't know if these individuals were just unsure of what to say about our new bundle of joy or trying to make conversation (and failing miserably, for what it's worth) but damn, they said things that were so inappropriate. My partner heard misogynistic jokes, comments implying that my husband controls me, and comments about my postpartum body which, yes, included my vagina. Listen up, gentlemen: none of the aforementioned comments were at all welcomed. At all. Ever. I'm not entirely sure why that needs to be said, because OMG, but apparently it's a necessity.
Here are some of the things people thought it was OK to say to my husband after our babies were born that were actually really creepy. Because who says this stuff, guys? Who? Honestly? Well, here's hoping the answer isn't "you."