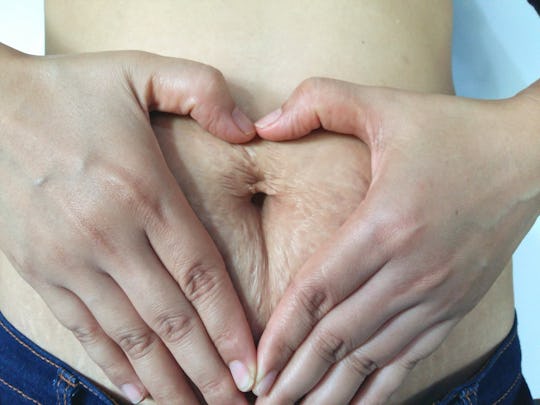 Morning27/Shutterstock
10 Myths You'll Hear About Your Postpartum Body That No One Should Believe
The first time I was pregnant, I immersed myself in advice and info and attempted to soak up every single fact about prenatal and postnatal care. I was going to be the most prepared new mom ever. What I failed to do, however, was gather any intel on how to take care of myself and my postpartum body. It wasn't until I was in the throes of postpartum life that I realized just how much societal criticism surrounds a mother's physical state, especially after giving birth. The never-ending myths about my postpartum body that no one should believe fuel that criticism, and create unrealistic expectations that are beyond hurtful.
I can't tell you how much I wished I had done more factual research and just dismissed those postpartum body myths altogether. To be fair, to myself and others, those myths are often disguised as health advice, fitness tips, and casual asides from friends and strangers alike. It can be difficult to separate fact from fiction, especially when you're trying to figure out every other aspect of motherhood. The most egregious myth that I fell victim to, was the idea that I should no longer look pregnant a few weeks after giving birth. Yeah, that fourth trimester is a real thing, and more people need to know about it.
In my fragile, exhausted state during the weeks following the birth of my first baby, I easily succumbed to the idea that my postpartum body was something that needed "fixing." Gradually, however (and by the time I had my second baby), I learned that nobody had the right to pass judgment on a body that has just successfully birthed a human (or any body for any reason, ever). If I wanted a cookie, I was going to have a cookie. So, if you encounter a few of these postpartum body myths while researching about pregnancy and postpartum life, feel free to kick them to the curb. It won't do you, or your body, any good to believe them.