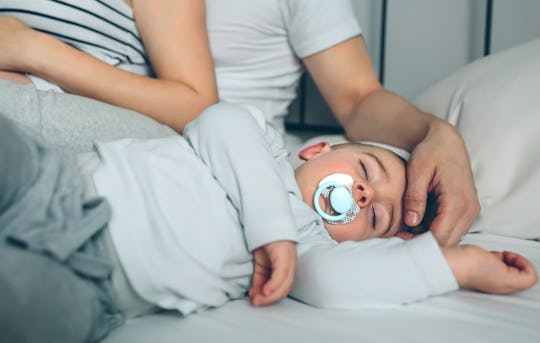 David Pereiras/Fotolia
7 Doubts You'll Have About Your Marriage When You Have A Toddler
Nothing changes your relationship with your partner like bringing a baby into the mix. Going from a couple to two inexperienced, exhausted parents isn't easy. And, in my opinion, your relationship continues to change as your baby changes, too. Just like your little one is learning how to navigate their world, you're learning how to navigate your ever-changing roll as mom and partner. So believe me when I say there are more than a few doubts you'll have about your marriage when you have a toddler, because, well, toddlers make you doubt pretty much everything. You know, like your concept of time, your sanity, your ability to remain patient, and your will to live.
By the time my son was a toddler, my daughter was pretty self-sufficient. That was wonderful timing, too, since her ability to entertain herself gave me more time to devote to my son, my work, and my marriage. But our relationship had endured a lot by the time my husband and I had two children. We had survived my two difficult pregnancies, two additional pregnancy losses, a slew of communication issues, and a seemingly endless list of lingering questions about how we'd continue to make our relationship work as our children continued to grow. As soon as we felt as though we had everything "in line," and our parenting decisions, our marriage, and our individual goals were all aligned, our children would change and our "perfect plans" would all come crumbling down.
Before too long, I realized that we weren't really a married couple, but two parents living with one another, going through the motions and doing what we had to do to make it through the day. Our relationship wasn't terrible, but it wasn't really wonderful or satisfying either. Everything was about the kids, and when I realized we were more roommates than man and wife, I started to wonder how we could possibly make our marriage last.
We eventually got through it, and now I consider those doubts to be just another normal part of being in a long-term, committed relationship. A healthy, lasting marriage takes work, and that work won't always be pleasant. A few apprehensive moments were, in the end, a reminder of how much we've grown, as parents, as people, and as romantic partners. And after 14 years, we've managed to continue to grow together. So with that in mind, here are just a few of the doubts you'll probably have when you're simultaneously caring for a tiny toddler person.