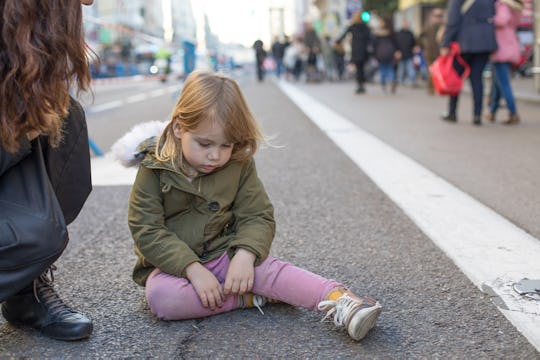 Q/Fotolia
7 Mantras To Help You Survive Being Tough On Your Kid, Cuz We All Gotta Do It
I can't speak for everyone, but when I looked forward to becoming a parent, countless ideas about what my relationship with my kid would look like consumed my brain. Like most first-time parents, those ideas largely consisted of me being an exemplary beacon of compassion, empathy, and respect. I didn't really dwell on how I was going to survive being tough on my kid, because I was going to raise my kid in a collaborative environment wherein he would grow on a foundation of confidence instilled in him by never feeling as though his opinion or his feelings didn't matter as much as anyone else's just because he was a kid.
Five years later, I feel more or less great about how that plan turned out. It all basically holds up, and I'm pretty onboard with the person my kid is turning out to be as a result. I did not, however, consider a few things, namely how raising your kid to feel their voice is valued equally before life has had a chance to knock them on their ass with some soundly humbling lessons can result in them turning into a monstrous know-it-all of almost intolerable proportions.
What I've realized recently is that I failed to see the necessary counterbalance to all my attempts at creating a confidence, self-assured kid: teaching them that their opinions — while valuable! — are often, well, very bad, and that they're feelings — while valid! — don't mean they can throw chicken nuggets at the babysitter.
Lucky for me, being the Bad Cop when a Bad Cop is needed has come easily. I embrace the catharsis and simplicity of it, especially since doing so effectively mitigates all the crushing guilt I feel at the same time. And in the moments when the guilt is winning out over the catharsis, these are the things I tell myself: