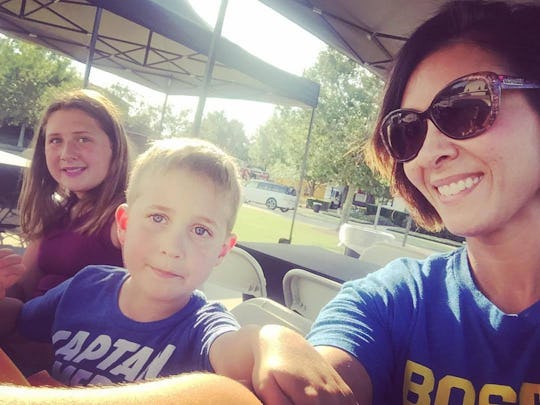 Courtesy of Candace Ganger
7 Reasons People Need To Stop Romanticizing Motherhood
When other moms talk about motherhood with stars in their eyes, I often feel left out. Maybe it's just me, but I think being a mom is more than just sharing a grandiose proclamation of unconditional love. I'm grateful I get the chance to be a parent, don't get me wrong, but being a parent is also draining. And frustrating. And taxing. And even annoying. So I think people need to stop romanticizing motherhood, because pretending it's all rainbows and butterflies only makes all of us tired, overworked, undervalued moms feel like perpetual failures.
Being a mother to my two beautiful kids is an incredible honor, and, thankfully, at almost 7- and 12-years-old my kids are fully aware of when I've hit my limit. And since I'm a work-from-home mom who juggles everything from preparing a week's worth of meals to taking care of bills and pets and kids home for summer break, I can hit my limit pretty quickly. I also suffer from anxiety, depression, and obsession compulsive disorder, and have my entire life, so the typical life responsibilities of a mother can also compound my frustration.
In other words, I'm aware that being a "Pinterest-perfect mom" is damn-near impossible, but that doesn't mean I didn't try my hardest to become one when I first became a mother. I wanted to fulfill the roll of mom as I had seen it on television and in movies: always happy, willing to sacrifice everything and anything for her kids, without leaving a single thing for herself or finding a source of worth outside of her family. That's sustainable, right?
Turns out, it's not. And that's the problem with romanticizing motherhood: it unfairly sets mothers up to fail, and in a way that makes them feel as if someone is innately wrong with them. So with that in mind, and because moms deserve better, here are just a few more reasons why we need to leave the rainbows and butterflies outside of the mom life: