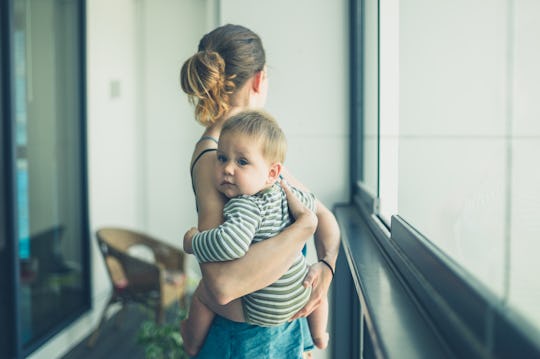 LoloStock/Fotolia
7 Reasons Why The Second Year Of Motherhood Is Way Harder Than The First
The first year of motherhood can be brutal. Having a baby is a huge shock to your body, mind, your relationships, and your finances. Nothing can quite prepare you for the reality of a newborn. No advice, no anecdote, no story. Nothing. Because there's nothing like the first time you bring your baby home, the first time you try to feed, the first bath, and that first night's sleep. But while the first year as a parent can be strenuous, the second year of motherhood is harder than the first.
The first year of motherhood, while draining, is also often blissful. At least, it was for me. I loved watching my newborn turn into a little human; watching her smile, laugh, crawl and take her first steps was a truly incredible experience. Listening to my baby babble and seeing her become her own person is the kind of joy that can be felt only by a new parent. But hearing your toddler scream "no" and throw a tantrum in the middle of a grocery store? Well, that's the kind of shame that can only be felt by parents of toddlers. And even though it's normal to have a 1-year-old toddler ready to question boundaries, it's arguably a less pleasurable experience than watching your baby crawl for the first time.
I remember when I first realized my babies where no longer babies. It happened early, too, since both of my kids started walking by 11 months. My daughter, the one with a, how do I say, "strong personality" let go of my hand and walked away from me on some random day, without warning. She turned her head, looked at me, and gave me this look that said: "I got this mom, I don't need you anymore." I cried ugly tears that night, telling my husband life isn't fair and that our daughter no longer loves me. And that, my friends, is just one of the reasons why the second year of parenthood is exponentially harder than the first.