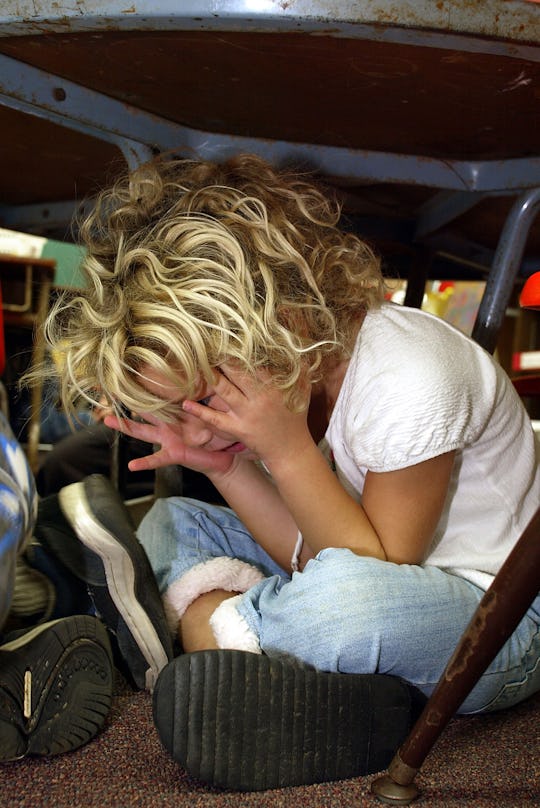 Phil Mislinski/Getty Images News/Getty Images
7 Teachers Share The Most Heartbreaking Moments During Lockdown Drills
Each school day, I say goodbye to my kids and watch them get on a yellow school bus in front of our house. It seems innocuous, but it's becoming more and more difficult to do. I want to believe that they will know what to do if someone tries to hurt them at school. I want to believe they will come back home safe and sound. But will they? I can't say for certain, and I have no idea if the lockdown drills they have actually work. When I asked teachers to tell me about those drills, they shared so many heartbreaking moments that happened during lockdown drills in schools where they work. And, as a result, it has become overwhelming clear that even if those drills keep children safe, they are impacting them in ways we have yet to understand.
As Vox reports, and according to the National Center for Education Statistics, lockdown and active shooter drills are now implemented in over 90 percent of U.S. schools. A leading provider of active shooter training — the Alert, Lockdown, Inform, Counter and Evacuate (ALICE) Training Institute — recommends a combination of classroom training and drills to prepare students for what to do. Unfortunately, according to Newsweek, all lockdown drills are not created equal, as there's not a national standard for active shooter training. Newsweek also reports that lockdown drills can be really traumatizing for kids, especially if teachers aren't able to prepare kids in advance and are able to calm their fears.
Like it or not, teachers now bear at least the majority of the responsibility to helping prepare our kids for what to do if someone tries to hurt them at school. Should we expect underpaid, undervalued teachers to protect kids from harm? Should they sacrifice themselves to save the lives of the children in their care, potentially leaving their own child at home without a parent? How should teachers and administrators talk to kids about school violence that won't traumatize them? What will work to keep everyone safe? And what about kids who might not be able to wrap their heads around "just in case" and, instead, imagine the "worst case scenario" over and over and over again?
I asked some teachers to share their experiences with lockdown drills, and it's clear that, at least for them, these experiences are totally heartbreaking.