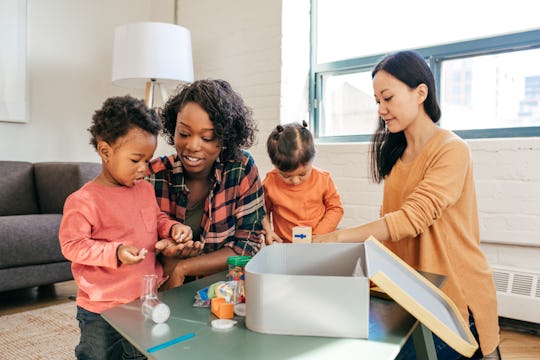 Weekend Images Inc./E+/Getty Images
7 Things Moms Who Parent Differently Have Taught Me
As an insecure mother, I don't really know what I'm doing. It's a "learn-as-you-go" kind of thing and I feel like I'm failing. With two kids, it's required a lot more fails than wins to nail down my own particular brand of motherhood. It wasn't until I moved to a small community and was subsequently surrounded by great people — especially a mother of eight — that I started questioning my ways. Of all the things I've learned from a mom that parents differently than I do, the one I've implemented most is trying to let my kids be kids. Sounds easy enough, but with my anxiety, my brain fights it with abandon.
Due to my Obsessive Compulsive Disorder (OCD), which is described by the National Institute of Mental Health as "a common, chronic, and long-lasting disorder in which a person has uncontrollable, reoccurring thoughts (obsessions) and behaviors (compulsions)," I've battled germs, dirt, and schedules as long as I can remember. Some of it stems from my childhood, and some from the way suffering through postpartum depression (PPD) changed me. My brain is constantly fighting with itself when it comes to letting my kids do what their friends are doing, instead of keeping them within my regimented bounds. I feel guilty, but simultaneously can't seem to change any part of it (even through multiple therapies).
Living where we currently do, I've had the distinct pleasure of getting to know a lovely family next door. The mother is someone my partner went to school with years ago (part of living in a small town) and, honestly, one of the greatest women I've ever met. When we first moved in, I was reluctant to let my guard down for anyone. I'd just had my son (he was 6 months old at the time), and lived a private, secluded life I was quite content in. Working from home while my partner worked long shifts meant it was me and my kids, on my schedule, with my routines. It was a breeding zone for my OCD and is still something I struggle through.
We settled into this new house, one full of memories from families past, and this amazing family of 10 gradually pulled me from my shell. Each one of them, for different reasons, are significant to my growth as a mother over the last five years. While this matriarch and I have much in common, I'm in complete awe of how she makes motherhood (and life in general) look so effortless and full.
Needless to say, I've learned a lot watching her over the years and I'm grateful for every lesson she's shown through action. Here are some of the parenting techniques I'll take with me, wherever I go, because everything she represents is forever apart of me. The best way to say "thank you" is to implement these lessons with my own life.