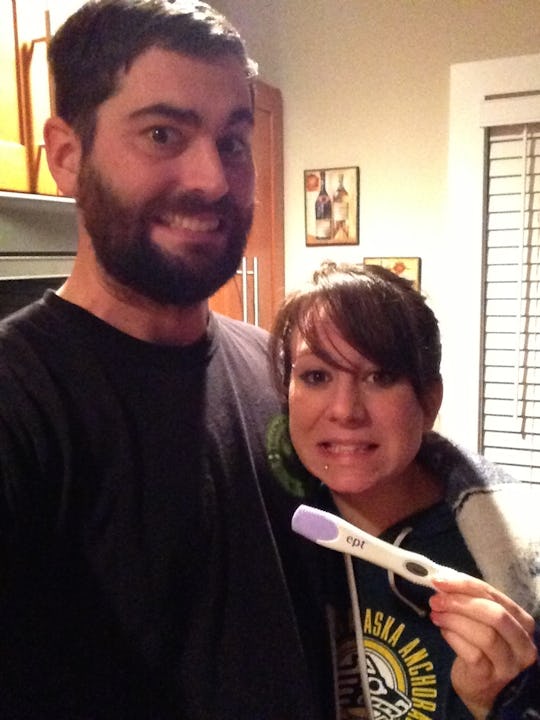 Courtesy of Danielle Campoamor
7 Things You Don't Have To Do When Announcing An Unplanned Pregnancy
When it comes to pregnancy, books and online forums and other women who have been pregnant are pretty quick to tell you what you should or shouldn't do. That list only grows, it seems, if your pregnancy wasn't planned. When I found out I was pregnant with twins -- a pregnancy I hadn't planned or prepared for -- I was inundated with things I "should" or "shouldn't" do. I ignored almost all of it, of course, and made decisions that benefited me (and my partner). Those decisions included the things you don't have to do when announcing an unplanned pregnancy; things people think you should take into account just because you didn't chart ovulation cycles and have sex on specific days and forgo birth control on purpose; things that really don't have any business being part of a pregnancy announcement.
My partner and I weren't trying to have a baby when we found out I was pregnant with twins. After weighing options, looking inward, making something as simple as a pro and con list and looking over future plans and finances, we decided we wanted to and were able to become parents. Time passed and, well, we were eager to announce to friend and family that we were going to be parents. We knew that it would be a shock; we knew that people would raise their eyebrows because we weren't married; we knew that we were going to be supported by most people, but some were going to question our decisions, this pregnancy, and our abilities as future parents. We didn't care. We posted that beautiful ultrasound picture anyway, and we let everyone know that in six or so months, we were going to be parents. Whoa.
After we made our announcement, I realized that planning for a pregnancy isn't a necessary step to being excited for a pregnancy. You don't have to follow a list of life choices in some prescribed order. I didn't have to be married; I didn't have to "plan" for a baby; I didn't have to do much of anything, in order to still be excited about the fact that I was going to be a mom. So, with that in mind, here are just a few things you don't have to do when you announce an unplanned pregnancy. "Planned" or not, this pregnancy is yours to be excited about. So, go on. Be excited.