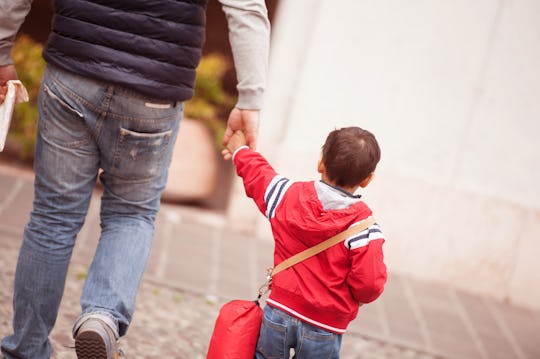 Fotolia
8 BS Things People Say About Dads Who Do Pick Ups & Drop Offs, Even Though Moms Do It Too
Our society has a lot of nice things to say about dads who seem particularly "active" in their parenting responsibilities. By active, of course, I mean they participate in an equal way to their mom counterparts. One of the areas of parenting where this is especially pronounced is at school. There's a lot of BS things people say about dads who do pick ups and drop offs, even though moms do basically the same thing without any kind of acknowledgement. Ugh.
My partner handles drop off most days of the week, mostly because it works with his schedule. He also loves doing it, and it has become one of the highlights of his day. Usually it's one of the only times he gets to see the kids during the week days, because he often works late at night and doesn't come home until after their bed time. We have a system and this is the one that works best for all of us, as a family. I often hear a lot of praise heaped his way because of his morning drop off routine – from other moms and, sometimes, even other dads. I do drop off and pick up several days a week, too, but no one throws me a party for it.
Now, I'll admit I'm pretty guilty, too. This one dad at my younger son's preschool is often the one to do drop off and pick up with his kid. When I first saw him, I was like, "Wow, what a great dad!" I even told my mom friends about this magical unicorn of a guy who is so dedicated to his child simply by being present. Yes, he is a wonderful father from what I've gathered, but why did my brain single him out as a wonderful parent just because he is a dad picking his kid up from school? I guess we go to the "thing that is not like the others" and, in the sea of moms working their you-know-whats off every day, it's sometimes easy to find the few dads and shower them in praise. In a perfect world we'd spread positive vibes around to all the parents out there being awesome (moms and dads alike), but the world isn't perfect. Maybe we can get there. Eventually.
In the meantime, here's some of the BS about dads that I'd love to hear less of, unless it is followed up by some big ups to the moms out there doing the same exact thing their male counterparts are being praised for.