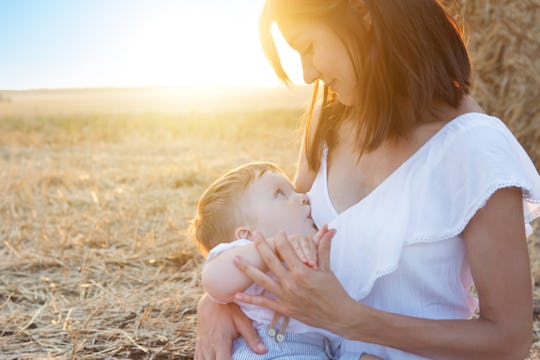 Alik Mulikov/Fotolia
8 Moms Reveal Awful Things They Heard When Extended Breastfeeding, Cuz People Are The Worst
I used to think there was a "right time" to stop breastfeeding. Then I actually breastfed and realized for me and my baby that time was when he self-weaned. There was no set "right time" at all. We'd stop whenever he decided he was ready, which just so happened to be when he was almost 3-years-old. Unfortunately, that meant I had to deal with more than a few inappropriate, rude comments. What's even worse? I'm not alone. I asked moms to share the rude comments people made about extended breastfeeding and, well, let's just say people are the worst and should probably keep their unnecessary comments to their damn selves.
Extended breastfeeding seems to mean different things to different people. Some people balk at nursing a child once they have teeth, or once they can walk and talk, or once they past their first birthday. Other people, however, think that if mother and child are both happy breastfeeding can continue until weaning occurs naturally. Plenty of women have breastfed their 3-year-olds, 4-year-olds, and even 5-year-olds, because that's what works best for their family situation.
If you choose to practice extended breastfeeding you are bound to hear about it from friends, family, co-workers, neighbors, and completely random strangers, though. The way we feed our babies has becomes a highly charged and polarizing conversation, probably because people have some feelings about either formula-feeding babies and/or using a sexualized part of a woman's body (her breasts) to sustain human life. Yes, facilitating those conversations is about as fun as it sounds.
So I say it's worth remembering that despite what someone else has to say about how you choose to feed your child, it is, in fact, your choice. No one is more qualified to decide what works best for you and your family. No one has the right to tell you what you should and shouldn't do with your body. These moms managed to ignore, confront, or sidestep the rude comments they heard about extended breastfeeding, and so can you.