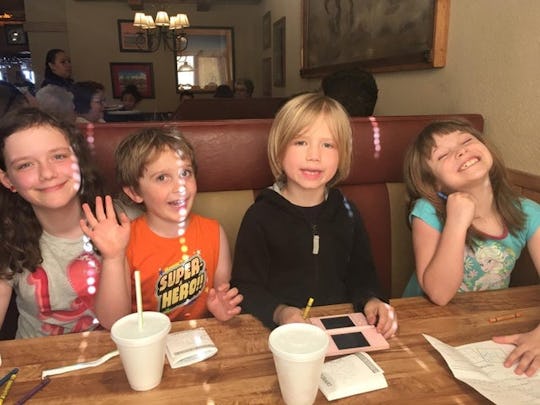 Courtesy of Steph Montgomery
8 Reasons Why I'm Not Sorry I'm Raising Vegetarian Kids
Growing up in the Midwest meant there were three basic components to every meal: meat, potatoes, and bread. When I was 12-years-old and told my mom that I wanted to become a vegetarian, I'm pretty sure she thought I was joking. I wasn't. I gave up red meat, then poultry, and finally seafood. And, thankfully, she was amazingly supportive. So when I had kids of my own, I didn't consider feeding them meat; a choice that according to some people is pretty radical. The truth is, I'm not sorry I'm raising vegetarian kids. Not a single bit.
While I don't think it's at all a big deal that my children are vegetarians, we still live in the "meat and potatoes" Midwest. And if you saw the looks on people's faces or heard their questions when they learned that we don't eat meat, you would totally think our food choices are, in fact, a very big deal.
People: "But, what do they eat?"
Me: "Pretty much everything that's not meat"
People: "But, what about protein?"
Me: "There's lots of plant-based protein sources. We also eat eggs and dairy."
People: "But, what about your son? Boys need meat to grow."
Me: "..."
Honestly, I am not sure why people think it's any of their business how my partner and I feed our family. I guess, sometimes, these people are legitimately concerned for my kids' wellbeing, but my kids are healthy and thriving, so their concern is totally unnecessary. For the most part, though, I think their intrusive questioning is entirely cultural. American food culture generally prizes large portions of meat and carbs, with tiny sides of veggies and fruits. And even though I think our diet is probably healthier than the average American's, I would never say anything about it. That's more than I can say about every meat eater I know, who gives me a piece of their mind when they learn that we are vegetarians.
So yeah, I am not at all sorry I'm raising my kids to be vegetarians, for so many reasons, including the following: