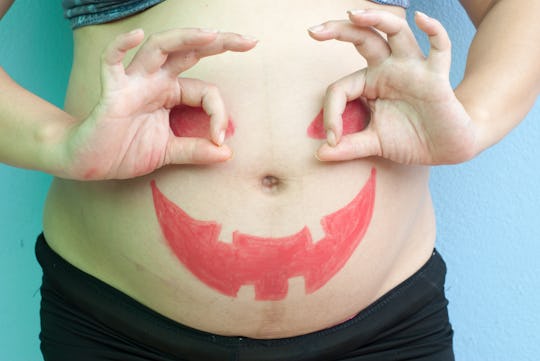 parinyatk/Fotolia
9 Things You're Not Allowed To Say To A Pregnant Woman On Halloween
I love Halloween. It is, without a doubt, my favorite holiday. So when I discovered that my second baby's due date was close to Halloween, I secretly hoped he'd come early so I would have a Halloween baby. The little parasite didn't comply, though, and I learned that being pregnant on Halloween is both awesome and terrible. The fun maternity costumes and candy are awesome, sure, but the things people say to a pregnant woman on Halloween make everything kind of the worst.
I've heard some completely wild, inappropriate, and downright creepy things when I was pregnant on Halloween. I'm going to assume it's because people think it's OK to check you out when you're wearing a costume, or because it's a night when you are actually supposed to talk to strangers, but seriously, my body is not up for discussion, commentary, or here for your viewing pleasure, not even if I'm in a Halloween costume (even a so-called "slutty" one).
Actually, it's really never OK to make a comment about someone's body or to offer unsolicited advice. My body belongs to me and my plans for pregnancy, childbirth, delivery, and parenting are none of your business, regardless of the day of the year. And trust me, I've heard pretty much every pregnancy joke imaginable, and I've never once considered them funny. So with that in mind, and because enough is enough, here are some of the things people thought it was OK to say to me when I was pregnant on Halloween. Consider this a public service announcement of sorts: don't be intrusive, scary, creepy, or otherwise rude to pregnant people on Halloween or any other day ever.