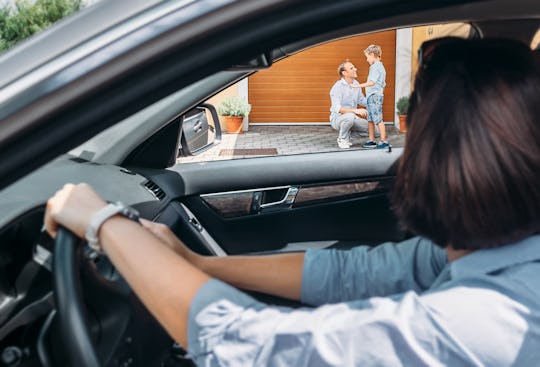 Soloviova Liudmyla/Shutterstock
8 Rules For Talking To My Kid About My Divorce
As much as I love my life now, and was happy when my divorce was finalized and I could finally close that chapter, ending my marriage was incredibly hard. Not just for me, but for my kids, too. They had questions and I tried my best to answer each and every one of them honestly. Unfortunately, more than a few people thought talking to my kid about my divorce was OK. For the record, it's not.
Don't get me wrong. It's not that I think that my divorce is something my kids should feel ashamed about, or something I shouldn't discuss in front of them, because I totally don't. At the same time, I don't want you to put them in an awkward situation, where they feel like they have to respond to be polite or have to express loyalty to either me or my ex-husband. That's so not fair to them.
So, more often than not, the first rule of talking to my kids about my divorce is, well, don't. If you do find yourself in a situation where my child has shared something with you, or asks you a question about divorce, please check with me first before you respond. And, please, only respond if it's in my children's best interest and you're not just being nosy. If you do end up in a conversation with my kids about divorce, please don't tell them how sorry you are, stigmatize divorce as a bad thing, or badmouth me or my ex-husband. Just don't.
Read on for more rules for talking to my kids about my divorce, or any kids, really. Because this is a delicate subject and every child deserve support, not shame.