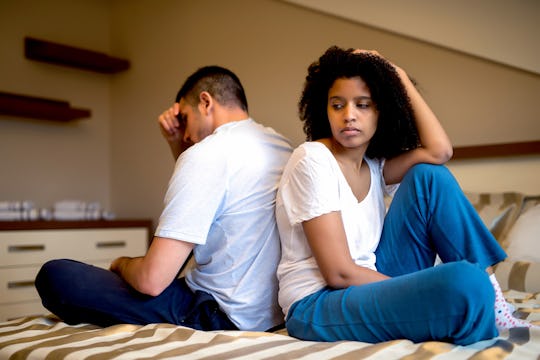 dusanpetkovic1/Fotolia
8 Subtle Ways My Body Tried To Tell Me My Marriage Was Doomed
I am pretty ashamed to admit how long I stayed with my ex-husband after I knew our relationship was over. In fact, long before I made up my mind to leave, my body tried to tell me my marriage was doomed. Most of the signs were subtle, though, so I think I should at least be kind enough to myself to cut past-me some slack and offer up a healthy dose of understanding. Sometimes it's hard to see the forest through the trees.
When I look back at my marriage, though, I can tell my body was trying to tell my brain that it was time to leave. I had constant headaches and sore shoulders from the stress of being wound up and fighting all the damn time. I felt sad and anxious, even at times when I should have found joy. Insomnia kept me awake most nights, even though our baby was sleeping through the night. Nothing tasted good, so I didn't eat. And I was never in the mood. I got to the point when I couldn't remember what it was like to be in love with my partner or to feel good in my marriage.
My marriage was destined to fail, but I didn't want it admit it so I stayed in an unhealthy relationship for far too long, hoping things would improve. I don't judge other people for staying in abusive or just plain bad relationships, because I know how hard it is to leave (physically, financially, and emotionally), but I am so glad I eventually left my ex-husband. My life became so much better after I left my toxic husband behind. I just wish I had listened to the subtle messages my body was trying to send me all along.