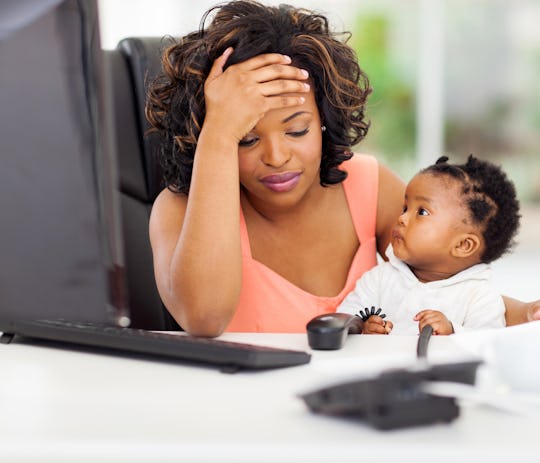 Fotolia
8 Things A Person Really Means When They Tell A Mom They're "Surprised" She Quit Her Job
I gave birth to my son right as I approached a major professional crossroads. That uncertainty and stress — combined with my anxiety and sadness over the thought of leaving him with someone else — made it easier to leave my old job and look for my next professional venture, versus immediately prioritizing paid work. It's been a sacrifice for our family, for sure, but we're fortunate to have been able to even make that choice. However, since I don't fit the stereotype of a stay-at-home mom, I've had a number of people say they're "surprised" that I'd quit my job.
The choice to be a stay-at-home parent is complex. Some families run the numbers and realize that, once things like commuting and childcare costs are factored in, one parent staying home with the kids makes more economic sense than sacrificing that time with them and essentially paying to go to a job. For others, their current work isn't as personally satisfying to them as spending time with their families. So, if they can find a way to make it work, they quit. There are plenty of other financial, personal, and lifestyle factors that families consider when deciding how to meet all of their economic and social obligations, so it shouldn't really surprise anyone that there's considerable variety in who might end up quitting a job when they become a parent, and who may end up staying in the workforce.
If all this seems way too confusing, or if you're looking at this like, "Oh, God, another thing I never thought about before. How do I avoid offending my friends if I find myself in a conversation like this?" Honestly, there's a really simple solution. When people make choices that they're happy with, be happy for them. If you're genuinely caught off guard — even if you can't take back your raised eyebrows or an exclamation of, "Oh, wow!" — you can avoid digging yourself into a further hole by not commenting directly about how surprised you are, or talking about how you'd never expect "someone like them" to make that choice. Just listen to whatever they're saying and be happy for them. Chances are, when people are "surprised" a mom quit her job, it's for one of the following reasons, many of which would make for really awkward conversation if actually said out loud.