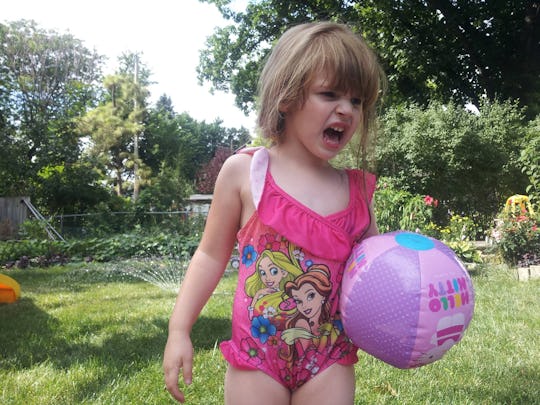 Courtesy of Steph Montgomery
8 Things My Kid Is *Really* Saying When She Says She Hates Me
Being a parent is definitely not for the faint of heart. The baby phase made me think I had absolutely no idea what I was doing; the toddler years tried my patience; and the preschool years had me wading in nostalgia, wondering where the time (and my baby) went. And then there was the day I heard a phrase come out of my daughter's mouth that, truly, broke my heart:
"I hate you."
Thankfully, it didn't take me long to realize that when your kid says I hate you, they don't really mean it. My oldest daughter has started telling me she hates me on a regular basis, and she says it knowing that it hurts. It's not that she's cruel or heartless, and she's not telling me she hates me because that's even remotely true. No, in those moments she is saying whatever it takes to shock me. Unfortunately, sometimes, her tactic works. As hard as I try not to react, there are days when I simply can't help but let the disappointment and sadness show in my face.
So I cling to the words of a wise mom-friend (and therapist), who once told me that hearing "I hate you" from a child actually means you're doing something right. Because if a child says the worst of the worst to you, it means they feel safe with you and, more importantly, that they know you will always love them... no matter what. And it's totally true! There's nothing my daughter could say to me that would make me love her any less. So when she has said those three dreaded words, I know she's trying to say something else entirely.
I'm far from perfect, and sometimes I'm sure my daughter thinks I'm the worst parent on the planet, but I know differently. I know she loves me, and, honestly, I will happily have her tell me how much she hates me if it means she really knows that, no matter what, I will always love her. So with that in mind, here's what your child is really trying to say when they say, "I hate you":