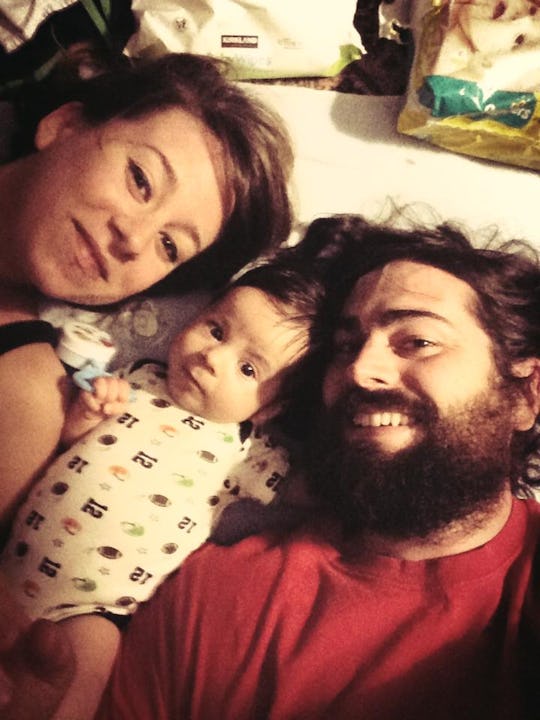 Courtesy of Danielle Campoamor
What To Know About Your First Post-Baby Fight
At the risk of sounding like one of "those" really annoying people in a happy relationship, I must admit that my partner and I rarely argue. Now, that's not to say we don't debate or discuss important topics, from how to parent our son to politics to what in the hell we'll be having for dinner this evening. Because, well, we do. However, we don't really "fight." Ever. See? I'm that annoying person, huh? Still, there are more than a few things no one will tell you about that first postpartum fight, that I'm more than willing to divulge only because I remember that fight as if it happened yesterday. That fight was ridiculous, unnecessary, and a reminder that even in our new-parent haze of exhaustion and fear, we really and truly loved our son so much it changed who we were on a fundamental level. As both individuals and as a couple, my partner and I just weren't the same.
Of course, by "fight" I am talking about a passionate disagreement between two kind and respectful adults. I am most definitely not talking about a toxic relationship, in which "fight" means physical, emotional, verbal, or any other kind of criminal abuse. That is not "normal," not OK, not something you can simply "get over," and certainly not something anyone can claim as part of becoming a new parent. As a woman who grew up in an abusive household, I can tell you that if your first "fight" with your partner is an abusive one, that's not something you deserve or need to accept as typical mom life. There are people you can talk to, places you can go for help, and support systems in place to help you and your baby live in a happy, healthy, and comfortable environment.
But if you're in a healthy relationship, a disagreement is bound to come up from time to time and most definitely when you're as scared, exhausted, unsure, and excited as you are when you're a new parent. I know that first fight I shared with my partner, when I was postpartum and sore and emotional, was a wildly unnecessary and kind of hilarious one. In the moment, however, I was steadfast in my faulty reasoning and ready to go to proverbial battle over who was "right." I know I'm not alone in those postpartum war-of-words, which makes it all the more confusing as to why parents aren't given a crash-course in postpartum disagreements. So, with that in mind, here are just a few things you should know about that argument. Prepare yourselves, kids.