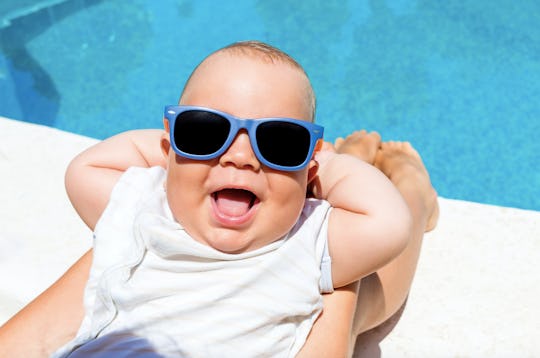 Maygutyak/Fotolia
9 Hilarious Differences Between Having A Baby In The Summer Vs. The Winter
Between my three pregnancies I've had babies in the summer, fall, and winter, which means I have been pregnant, given birth, and had a newborn in virtually every season. Honestly, every season presents a challenge, but they had their positives, too. I especially noted some huge and hilarious differences between having a baby in the summer vs the winter.
Each season comes with it's perks. In the summer you're able to be outside with your baby, so you feel less isolated and alone. Winter brings the excitement of having a baby during the winter holidays, and, of course, it's sweater season. But each season has it's less-than-admirable qualities as well. In the summer, the hot weather and swarms of mosquitoes can make you feel just as isolated as snow storms can in the winter. And don't even get me started on fireworks for the Fourth of July or New Year's Eve.
I've learned that there's really no perfect time of year to have a baby. I also now know that so much of the newborn phase is a matter of perspective. When I think back to my babies' first days of life, I have to kind of laugh. I was so miserable, clueless, and anxiety-ridden, mostly because having a baby is stressful no matter what the weather is like or how your social calendar looks. There are moments that are going to totally suck — like being pregnant in the summer heat or being shamed for breastfeeding at Christmas dinner — and other moments will actually be kind of nice — like being off on maternity leave during summer vacation, or snuggling with your baby when it's cold outside.
Fortunately, no matter what the season you have your baby, you will eventually figure out how to be a mom. And if you are lucky, you might also learn how to calm down a little and enjoy it all. In the meantime, though, here are some pretty hilarious differences between having a baby in the summer versus the winter, because if you don't laugh you'll cry.