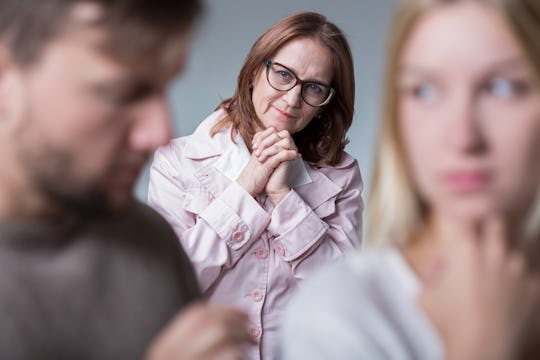 Photographee.eu/Fotolia
9 Questions Mothers-In-Law Ask That Make Moms Feel Guilty
To say I have a strained relationship with my mother-in-law is putting it mildly. And in talking with my mom friends, I've learned I'm not alone. Does becoming a mother-in-law turns otherwise reasonable people into judgmental, guilt-tripping monsters? As a mom, I hope not, but as someone who has had two mother-in-laws, I can say that's been my experience. You see, there are questions mother-in-laws ask that make moms feel guilty, and I'm telling you: no one can make me feel guilty like my mother-in-law.
Sometimes my mother-in-law's questions seem innocent, or even "nice," but underneath her intentions are consistently less-than-honorable. For example, when my mother-in-law questions my cooking, clothing, or parenting choices, she may think that it's "nice" to tell me the "right" ways to do things, but it never feels that way from my perspective. To make matters worse, as a mom I pretty much feel guilty all of the time anyway, so I absolutely don't need someone to point out my faults or undermine my parenting. I do fine feeling guilty all on my own. And if that wasn't enough, my mother-in-law seems hellbent on constantly asking me why I don't like her, making our strained relationship my fault, rather than a result of her toxic behavior, I realize that there are no good answers to my mother-in-law's questions. I really can't win.
So, here are just a few examples of mother-in-law questions guaranteed to take even the best moms on a guilt trip. Relationships with in-laws are complicated, my friends. The least you can do is prepare yourself for the awkward, uncomfortable, and downright difficult moments ahead.