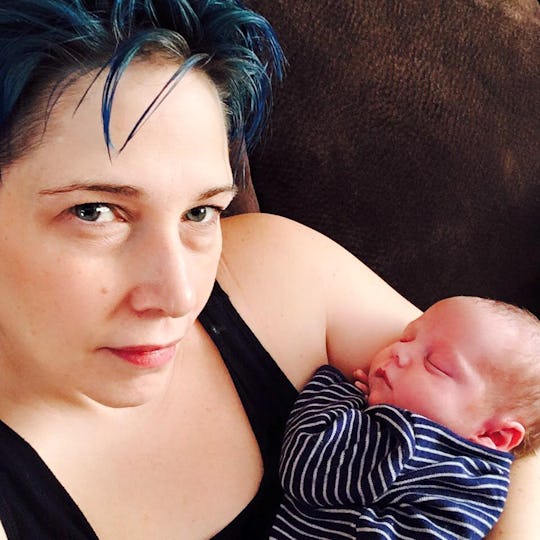 Courtesy of Steph Montgomery
11 Questions Every Mom Recovering From Childbirth Is Tired Of Hearing
As a mom with a baby, I am tired AF. And by "tired," I mean, "I haven't really slept more than a couple of hours in a row since my third trimester," tired. It's the, "I'm completely fed up with people's unrealistic expectations and incessant questions about my body, my birth, or my baby" kind of tired. I, for one, would like to heal without having to answer the intrusive, presumptive, and insensitive questions people think are OK to ask. Honestly, there are so many questions moms recovering from childbirth are tired of hearing, and I have heard them all.
I just had my third baby, and since I've already done the postpartum life thing before, you would think I would remember how hard recovering from childbirth would be. Nope. The truth is, I still feel lost at times and a ton of pressure to do everything perfectly (which is totally impossible, by the way). And it's all made worse by people's constant questions.
Am I still breastfeeding? Nope, my baby has food protein allergies and I have undersupply, not that I should have to explain that to strangers.
Have I lost the baby weight, yet? Nope, but thanks for bringing that up. I definitely wasn't worried about my weight-loss struggles until today, at this very moment when you felt the need to make a comment about my body. Seriously, would you ask a stranger who didn't just have a baby if they are trying to lose weight? Probably not.
Is your baby sleeping through the night? I'm not even going to respond to that question, because I am too tired to speak.
The moment you have a baby, the countdown starts for you to go back to being you. The trouble, of course, is that everything changes when you have a baby, so the chances of you getting "back to normal" again are about as high as getting a full night's sleep. In other words: it's not going to happen. Recovering from childbirth is a big deal. So, while us moms are doing this seriously hard thing, we would appreciate it if people would stop asking so many questions: