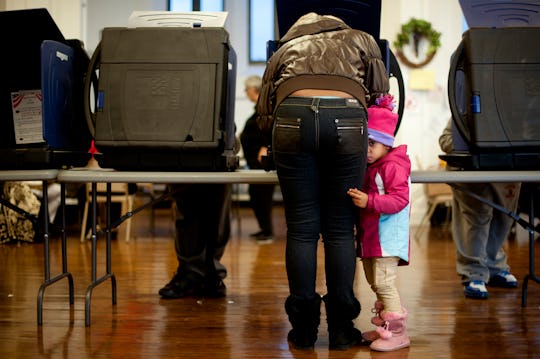 Jeff Swensen/Getty Images News/Getty Images
9 Things A Conservative & Liberal Mom Have In Common 
In this tumultuous political climate, it can feel like those on opposing sides are completely different from one another. The truth is, however, that we're more alike than we are different. In fact, whatever side of any particular argument you're on, there are bound to be some friends or family members who completely disagree with you. So while it can seem like we are worlds apart, there are actually more than a few things a conservative mom and a liberal mom have in common.
When a group of people are talking about issues that have the potential to do real harm to communities, especially those that are already marginalized, it can be difficult for those involved to keep their cool. Family dinners or drinks out with your girlfriends can turn into heated arguments, not to mention what can happen to political conversations on the internet. Sometimes it feels like we will never find any common ground. While some people believe their identity is directly tied up with their political leanings and, as a result, is something cultivated and curated on an individual basis, others simply believe what their families raised them to believe. In other words, not everyone is as political as others, even when the state of the future matters to pretty much everyone.
However, the truth is that people can change their minds, and truth and information should never be partisan issues. Most moms want similar things, regardless of their politics or what they've been raised to believe or where they live or who they have voted for. They want their kids to be safe and grow up in an optimistic world, and that's a manifesto we can all get behind. So, with that in mind, here are a few things all conservative and liberal moms have in common.