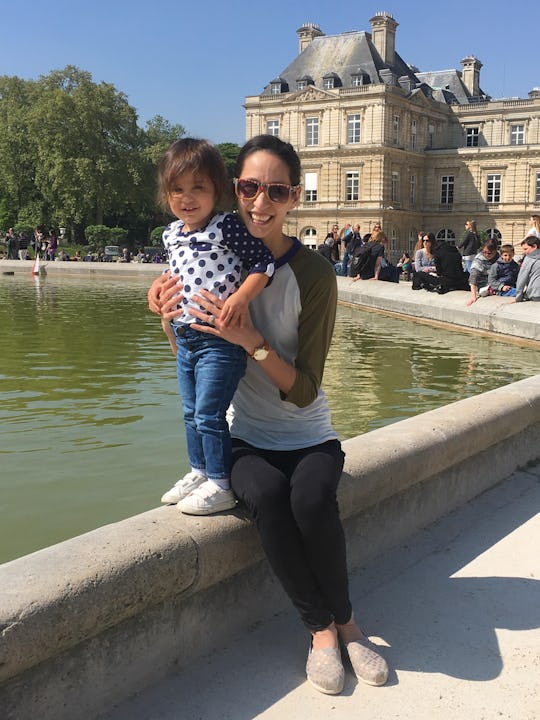 Courtesy of Kimmie Fink
9 Things Traveling Internationally Taught Me About Parenting
It takes a certain degree of insanity to travel abroad with a small human who is equal parts adorable and infuriating. You're probably looking at a long flight, packing light is not an option, travel is unpredictable, and toddlers aren't exactly known for their flexibility (besides putting their feet behind their head during a diaper change). Still, and as a stranger pointed out while my toddler was screaming on the train to Strasbourg, if you have the chance to travel you should. Our trip was a challenge but, in the end, traveling internationally with a toddler taught me a lot about parenting.
The upside of my husband's 12-month deployment is that he was guaranteed two weeks of rest and relaxation. The Army would fly him anywhere in the world, and because my daughter hadn't yet turned 2 years old, we were only looking at paying a tenth of a ticket for her. We decided to ignore the advice of Rick Steves and take an epic European vacation. I planned a 14-day itinerary of five cities in two countries, bought plane and train tickets, and booked our Airbnb locations. I was ready.
Just like all the reading I did while pregnant could never really prepare me to care for a newborn, no amount of planning could have completely assisted me in overcoming the special challenges of toddler travel. At the end of the day, our trip was both stressful and delightful. I don't regret it, it was the opportunity of a lifetime, and the lessons I've learned have made me a better mom.