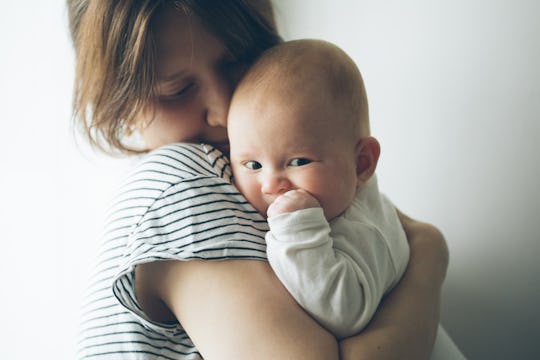 Irina Bg/Shutterstock
9 Unspoken & Contradictory Demands We Make Of New Moms
When I found out I was pregnant and decided to carry that pregnancy to term, I knew motherhood was going to be difficult. After all, parenthood is often touted as the "most difficult job in the world." But what I couldn't have possibly foreseen, or prepared for, were all the unspoken and contradictory demands society makes of new moms; demands that left me feeling completely lost. As a new, sleep deprived mother caring for a newborn baby, I had no idea how to navigate the trials and tribulations of parenthood in a way that society deemed "acceptable."
We can see these contradictory messages and expectations play out on a national scale. In the United States, motherhood is often positioned as the "end all, be all" of female existence, but we're the only industrialized nation that doesn't offer mandatory paid family leave. We pay moms less than we pay dads, we don't offer universal child care, and 25 percent of new moms are going back to work a mere two weeks after they give birth. Pregnancy, childbirth, and postpartum depression are considered pre-existing conditions and, without the Affordable Care Act, legitimate reasons for health insurance companies to deny coverage to mothers.
And, of course, these national messages permeate into our close family and friend circles. We should all feel comfortable asking for help, but are often expected to deal with whatever motherhood throws our way on our own and with a sense of grace. We should admit that motherhood changes us, but we shouldn't change so much that our friends and family have to get to know us all over again.
It's exhausting, right? I mean, trying to figure out where I fit within these alternative and contradictory narratives was as tiring as the newborn phase, and now that my son is 4 and my brand new baby is 6 months, I can tell you that it doesn't really get any easier.
But admitting there's a problem is the first step towards eradicating it. So, with that in mind, here are just a few of the contradictory and unrealistic expectations us new moms face: